New Route of the Day (4 September 2023): easyJet between Lyon and Prague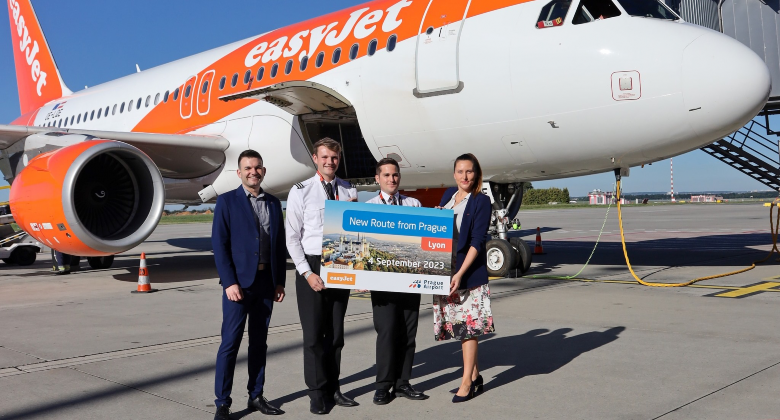 easyJet launched a new service between Lyon and Prague on Monday 4 September. The 840-kilometre service will be maintained 2-weekly on Mondays and Fridays with the 156-seat A319 aircraft. The LCC will compete directly against Volotea's 2-weekly rotation.
What they said
Manuel Guening, Manager for Corporate Communications at easyJet, said: "This new connection offers Lyonnais the possibility of (re)discovering Prague, the capital of the Czech Republic. Nicknamed "the city of a thousand towers and a thousand steeples", Prague is the dream destination for culture lovers who want to immerse themselves in history, arts, music and architecture."
easyJet now serves twelve destinations from Prague
The LCC has been steadily growing its presence in Prague and now serves twelve destinations, ten of which are year-round. In addition to Lyon, they include Amsterdam, Basel/Mulhouse, Bristol, Geneva, Lisbon, London LGW, Manchester, Milan MXP and Porto, while Edinburgh and London LTN are operated over the summer.
In September alone, easyJet has 86,820 available seats on its Prague flights, according to Cirium schedules data, representing an increase of 6.5% on the same month last year. Services to Milan MXP, Amsterdam and London LGW are the most frequent and boast the greatest amount of capacity.
Compared to last year, easyJet no longer serves Naples out of Prague but has launched operations to Lisbon, in addition to Lyon.
Prague Airport yet to recover pre-pandemic traffic
The Czech Republic is one of the slowest recovering aviation markets in Europe in terms of reaching its pre-pandemic passenger levels, with little domestic or transfer traffic and the country introducing some of the toughest travel restrictions in Europe during the global health emergency.
Another factor slowing down Prague's recovery is the war in Ukraine. Prior to the war and the pandemic, Russia was a strong market for the airport, bringing in an average of 1.5 million passengers per year.
Prague Airport handled just over 7.4 million passengers during the January – July period, representing an increase of 31.3% on last year, but still down 24.4% on its record set in 2019. The airport estimates it will surpass its pre-pandemic traffic figures in 2026.