New Route of the Day (5 July 2023): Georgian Airways between Tbilisi and Nice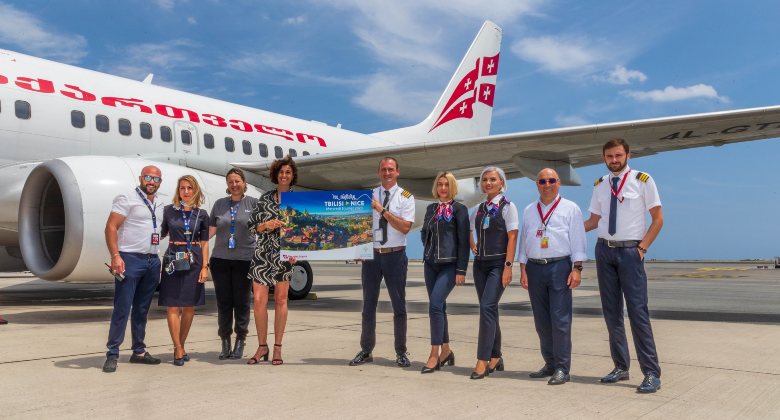 Georgian Airways entered the French market on Wednesday 5 July with a new seasonal service between Tbilisi and Nice. The 3,075-kilometre route will be maintained 2-weekly, on Wednesdays and Saturdays, with the 737-700 aircraft. The carrier faces no competition between the two cities.
Flight A9767 departs Tbilisi at 11:00 local time, arriving in Nice at 13:25 local time. The return service, operating as A9768, takes off from the French city at 14:30 local time, touching back down in the Georgian capital at 20:45 local time.
Georgian Airways taps into Russia demand
Georgian Airways restored operations to Moscow in May after Russia unexpectedly abolished visas for Georgian nationals and lifted a flight ban Moscow unilaterally imposed in 2019 after a wave of what Russia perceived as anti-Russian protests in Georgia.
Georgian Airways has made no secrete it plans to tap into the Russian transfer market. Due to the ongoing war in Ukraine and sanctions imposed onto Russia, travellers from the country heading to Europe have limited options. In response Kyiv imposed sanctions on Georgian Airways, with Tbilisi evaluating the move as unfair.
Georgian Airways expands Europe network
Georgian Airways has expanded its European network in response to the resumption of flights to Russia to provide Russian travellers with additional transfer options. In May, the carrier commenced services from its Tbilisi hub to Prague and Rome FCO, followed by Larnaca, Milan BGY and Thessaloniki in June, as well as the newly introduced Nice in July. Furthermore, it has bolstered frequencies on a number of other European destinations. The Georgian carrier also serves Amsterdam, Berlin, Brussels BRU, Vienna and Yerevan in Europe, alongside Moscow VKO. Outside of the continent it maintains operations to Tel Aviv. This expanded European network will provide a larger feed for the carrier's onward flights to Moscow VKO
Georgian Airways, established in 1994, is the privately-owned flag carrier of Georgia. It currently operates a fleet of three passenger aircraft, including one 737-700, one 737-800 and one CRJ200.