New Route of the Day (5 June 2022): Ryanair between Prague and Turin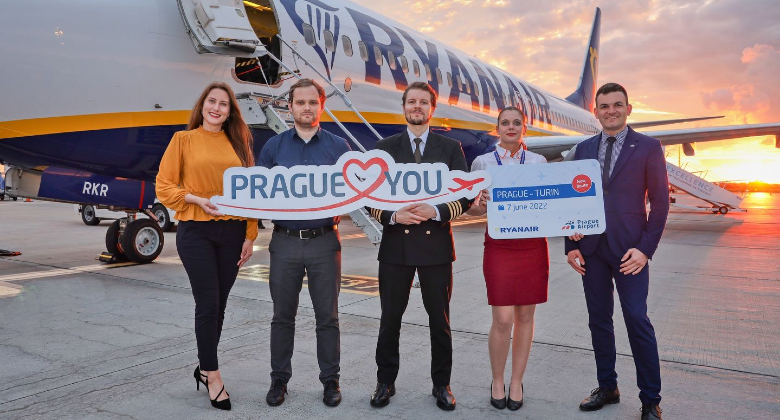 Ryanair now connects Prague and Turin with 2-weekly flights, after launching service on Sunday 5 June. However, Prague Airport chose to celebrate the launch of the 740-kilometre route on Tuesday 7 June. While both airports are Ryanair bases, the route is operated by a Prague-based 737-800.
Both airports are Ryanair bases
Turin is the newer of the two bases, having only opened at the end of October 2021. This summer Ryanair is expecting to serve 36 destinations from the Italian airport. Apart from Prague, the airline's other new services from Turin this summer are Agadir, Billund, Wroclaw and Zadar. In August 2019, Ryanair accounted for around 25% of seats at Turin, making it the airport's leading airline. Now that it is a base, its share of seats has risen further to almost 50%. Compared with August 2019, Turin's seat capacity is set to be up by as much as 40% this summer, making it one of Europe's fastest-growing airports.
Prague became a Ryanair base at the end of October 2016. This summer Ryanair is expecting to serve 30 destinations from the Czech airport. Turin appears to be Ryanair's only new route from Prague this summer. Despite not really growing compared with 2019, Ryanair's share of Prague seats has increased from just over 10% to almost 16%.
According to Cirium schedule data, Prague's overall scheduled seat capacity is down 40% this summer compared with 2019, primarily because of the massive reduction in flights by CSA Czech Airlines and local LCC SmartWings. However, Wizz Air has grown its Prague network and Eurowings has opened a base. As a result, the top four airlines at Prague this summer are all LCCs; SmartWings, Ryanair, Eurowings and easyJet. Then comes Lufthansa followed by Wizz Air.