New Route of the Day (5 June 2023): Air Serbia between Belgrade and Varna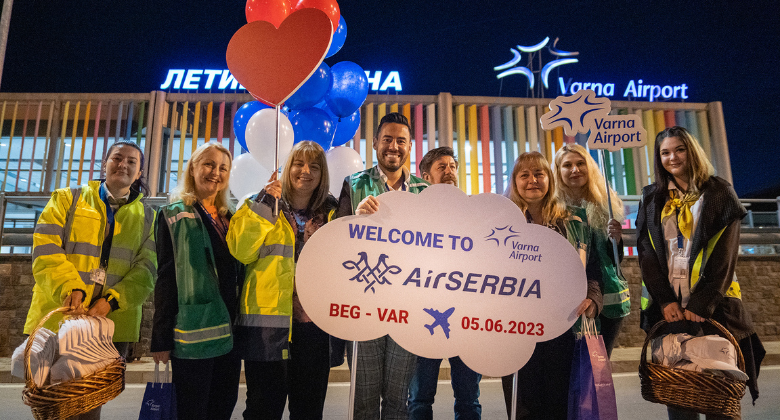 Air Serbia continued to expand its network on Monday 5 June with the introduction of flights between Belgrade and Varna on Bulgaria's Black Sea coast. It marks the route's resumption for the first time since 2016. The 630-kilometre service will be maintained 3-weekly on Mondays, Fridays and Saturdays, using a 72-seat ATR72-600 turboprop aircraft. The airline is the sole operator between the two airports.
Flight JU136 departs Belgrade at 12:35 local time, arriving in Varna at 03:25 local time. The return service, operating as flight JU137, takes off from the Bulgarian coastal city at 04:30 local time, touching back down in the Serbian capital at 05:20 local time.
What they said
Air Serbia's CEO, Jiri Marek, said: "We are now putting a lot of emphasis on regional connectivity and the network size which we have built up has become self-sustainable, meaning that whenever we open a new regional destination we have so much to offer that we will create some base load demand. We believe that Varna is a bit of a different leisure destination than the other ones we have launched, because while Varna might have some demand from Serbia, it has a lot of transfer demand. We believe it's a nice niche via Belgrade."
Air Serbia continues rapid expansion
Air Serbia is in the process of adding 21 new routes to its network this summer, on top of the over 20 it introduced last year. During the first week of June alone, the carrier commenced services from Belgrade to Krakow, Rhodes and Corfu, while flights to Chania and Ohrid are due to start during the second week of the month. Earlier in May, the airline inaugurated its third long-haul service, to Chicago ORD, as well as several cities in Europe including Cologne, Gothenburg, Florence, Hamburg, Heraklion, Marseille and Naples.
Varna is Air Serbia's second destination in Bulgaria, with the other being Sofia.
The wide-scale growth of its network has resulted in a sharp increase in passenger numbers. The carrier handled 1.27 million passengers during the first five months of the year, up over 60% on the pre-pandemic 2019. Air Serbia welcomed its millionth passenger of the year on 8 May, the earliest it has ever done so. The airline achieved this milestone on 8 July last year and on 25 June in 2019. The carrier is targeting handling 3.5 million passengers this year.