New Route of the Day (5 September 2022): Aeromar between Mexico City and Aguascalientes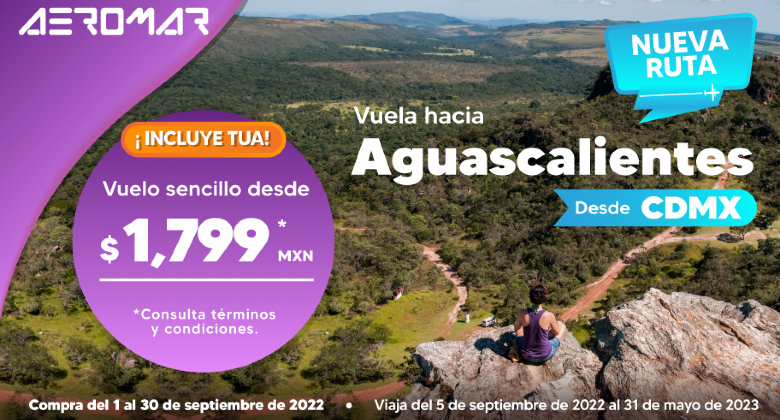 Mexican regional carrier Aeromar (IATA code VW) has launched a new domestic route between Mexico City MEX and Aguascalientes on Monday 5 September. It is offering daily service using its ATR 72s. It last connected these two airports in February 2014 according to Cirium schedule data. The two airports are just 420 kilometres apart and the route is already flown 29-weekly by Aeromexico. The Mexican flag-carriers uses E190s on the route operated on its behalf by Aerolitoral.
Aeromar already serves Aguascalientes from Puerto Vallarta, a route is launched in July 2021. However, another route it launched to Aguascalientes last July from Monterrey was suspended at the end of April 2022.
Has less than 1% of the domestic market
Within the Mexican domestic market Aeromar is a niche player, with approximately 0.7% of the market. Pre-pandemic its market share was twice as high at around 1.5%. Its active fleet currently comprises 10 aircraft according to planespotters.net, a mix of seven ATR 72-600s, two ATR 42-600s and one ATR 42-500. It is currently operating 270 weekly flights spread across 24 routes. These include six international routes of which four are to the US (three to McAllen and one in Laredo) and two to Havana in Cuba. Only one route, between Mexico City and Piedras Negras, is over 1,000 kilometres.
The airline's network currently comprises 24 airports of which 21 are in Mexico. Its busiest airports for weekly flights are Mexico City (85 weekly departures), Puerto Vallarta (29) and Guadalajara (25).
Aguascalientes aiming for one million passengers
Aguascalientes International Airport located in central Mexico is one of the many airports operated by GAP (Grupo Aeroportuario del Pacifico). It serves the city of Aguascalientes, which has a population of 930,00 people and is home to a major Nissan production facility. Prior to the pandemic the airport was welcoming just under 900,000 annual passengers. Latest traffic figures for August show that the airport has handled 624,800 passengers in the first eight months of 2022, an increase of 11.5% versus 2019. This suggests that the airport could welcome over one million passengers in a calendar year for the first time.
Volaris is the airport's biggest carrier with around 45% of seats, followed by Aeromexico (26%) and American (10%). American has 2-daily service to Dallas/Fort Worth while United offers daily service to Houston IAH.