New Route of the Day (6 April 2023): Air Serbia between Belgrade and Tel Aviv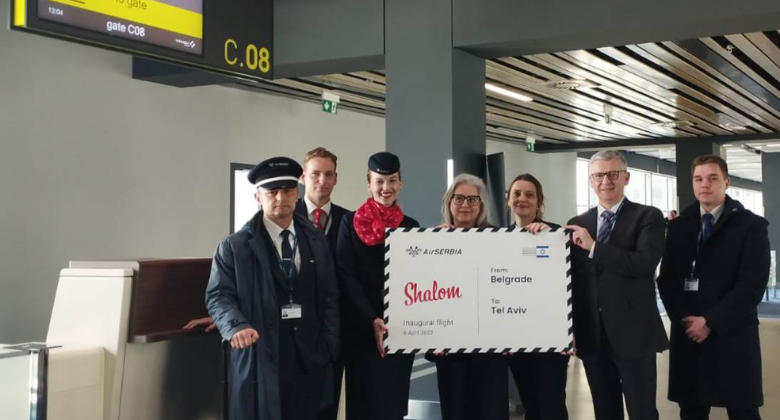 Air Serbia has added the first of 21 new routes to its summer network on Thursday 6 April by introducing flights between Belgrade and Tel Aviv. The 1,900-kilometre service will initially operate 3-weekly, on Tuesdays, Thursdays and Sundays, increasing to 4-weekly from 8 May with an additional rotation on Mondays. The carrier will utilise its A319 fleet on the route. It will compete directly against Arkia's 2-weekly service between the two cities.
Air Serbia's flights to Tel Aviv mark its return to Israel after over three years. The route was last maintained by the airline in March 2020 and discontinued due to the pandemic.
What they said
Bosko Rupic, General Manager for Commercial and Strategy at Air Serbia, said: "We are pleased to return to Tel Aviv. This city on the coast of the Mediterranean Sea is the biggest urban area and the cultural centre of Israel, guarding tradition and history. Its return to the Air Serbia network will further enrich our offer, enabling our passengers good connections between the Middle East and West Europe, United States of America and the Balkans."
Yahel Vilan, Israel's Ambassador to Serbia, added: "The first Air Serbia flight to Tel Aviv has taken off on one of the most important Jewish holidays of Pesach, that is celebrated as a spring holiday and is a sign of a new beginning, new achievements and connections between Serbs and Jews, Serbia and Israel."
Air Serbia returns to the Middle East
Air Serbia's flights to Tel Aviv mark the airline's return to the Middle East. Prior to the pandemic, in addition to Tel Aviv, it also served Beirut, however, those have not been resumed since.
Tel Aviv is the first of 21 new routes to be launched by Air Serbia this summer season as it embarks on a wide-ranging expansion, which will result in the carrier serving 80 destinations. In April alone, Air Serbia will also commence flights from its hub in Belgrade to Ankara on 7 April, Catania on 14 April, as well as Lisbon and Izmir on 15 April, none of which have been served by the airline in the past.