New Route of the Day (6 August 2022): Finnair between Helsinki and Mumbai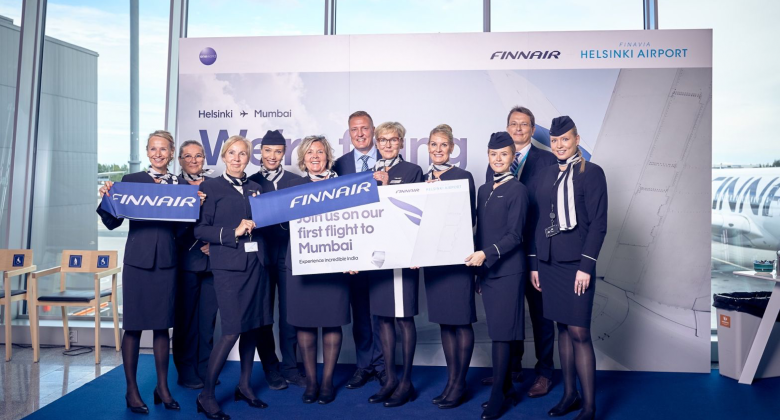 Finnair launched a new, long-haul service on Saturday 6 August when it began 3-weekly service from Helsinki to Mumbai in India. The service will be flown using the oneworld carrier's A330-300s and will depart the Finnish capital on Tuesdays, Thursdays and Saturdays. The 5,930-kilometre route is not flown by any other carrier. Finnair previously connected Helsinki and Mumbai with non-stop service between June 2007 and August 2009. Mumbai becomes Finnair's second Indian route, as service to Delhi was launched in late October 2006, in time for the W06/07 season. The Delhi route is currently served daily using A350-900s.
Elsewhere in Asia, China was a major market for Finnair, helped by Helsinki's advantageous geographic location for connecting passengers. However, Chinese COVID-related travel restrictions plus the inability now to pass through Russian airspace, has made Asian routes much more challenging. However, according to Cirium data for July, Finnair was still flying to Bangkok, Delhi, Hong Kong, Seoul, Shanghai (weekly), Singapore and Tokyo NRT. Weekly service to Guangzhou is set to resume in early September. However, non-stop passenger flights to Beijing, Chongqing, Nanjing and Xi'an have yet to resume. Similarly, Japanese flights to Fukuoka, Nagoya and Osaka are also awaiting a new resumption date.
Carried almost one million passengers in July
Statistics provided by Finnair reveal that it carried 999,600 passengers in July with a load factor of 86.6%. Load factors varied by region from 77.3% for domestic, to 90.4% on North Atlantic routes. Even Asian routes achieved a passenger load factor of 79.2%.
For comparison, in July 2019 Finnair carrier 1.447m passengers with a load factor of 89.6%. That means that the airline's passenger recovery rate stands at 69% in July. However, broken down by region the recovery rates vary from just 29% in Asia, to 67% domestically, 74% in Europe and 166% on the North Atlantic. The latter is down to Finnair having started flights from Helsinki to Dallas/Fort Worth at the end of March 2022 and Seattle in June 2022. However, service to San Francisco has been suspended. Finnair has also launched US flights from Stockholm ARN to the US late last year. In July it was offering daily service from the Swedish capital to New York JFK and 4-weekly service to Los Angeles.
In the all-important cargo market, Finnair's recovery rate is 42% in Asia, 68% in Europe and 208% on the North Atlantic.