New Route of the Day (6 July 2023): SAS between Oslo OSL and Stuttgart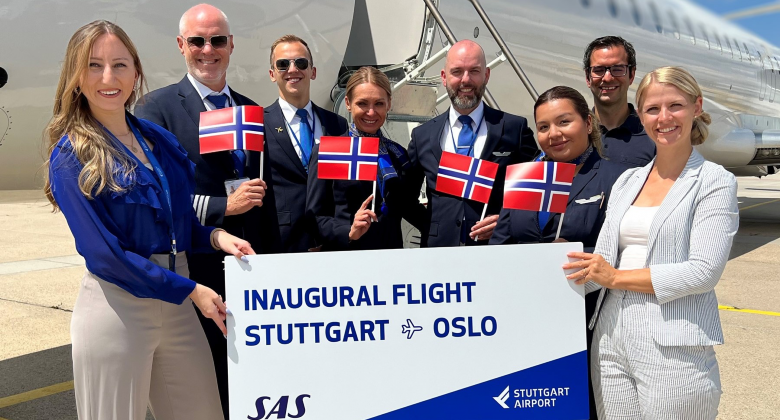 SAS introduced a new seasonal service by commencing operations between Oslo OSL and Stuttgart on Thursday 6 July. The 1,290-kilometre route will initially be maintained weekly, increasing to 2-weekly from 14 August with an additional service on Tuesdays. Operations will be maintained with a wet-leased airBaltic A220-300 aircraft. The airline faces no competition on the route.
Flight SK4855 departs Oslo OSL at 10:55 local time, arriving in Stuttgart at 13:10. The return service, operating as flight SK4856, takes off from the German city at 13:50 local time, touching back down in the Norwegian capital at 16:00.
SAS now serves four German cities from Oslo
According to Cirium schedules information, during the peak summer month of August, SAS will offer 12,460 one-way seats between Oslo OSL and the German market. In total, the carrier will maintain operations to four cities in Germany, including Berlin, Dusseldorf and Hamburg, alongside the newly launched Stuttgart. The largest number of flights and capacity will be offered to Dusseldorf with 8,146 seats available during the month. It will be followed by Hamburg, Stuttgart and Berlin.
SAS below pre-pandemic levels in Oslo
Over the August peak, SAS will be Oslo's second largest airline behind Norwegian, operating 3,204 departing flights and offering 525,379 seats on the market. This is still down 17% in terms of the number of flights, while capacity has decreased 14.7% compared to the same month during the pre-pandemic 2019.
Compared to four years ago, SAS no longer maintains operations from the Norwegian capital to Aberdeen, Dubrovnik, Frankfurt, Gdansk,  Munich and Pristina. It has also turned Helsinki into a seasonal winter destination. On the other hand, the carrier now serves a number of cities that were not part of its network in 2019. They include Bardufoss, Catania, Florence, Lakselv, Tallinn, Tenerife TFS and Venice VCE.