New Route of the Day (6 June 2023): Aegean Airlines between Athens and Ljubljana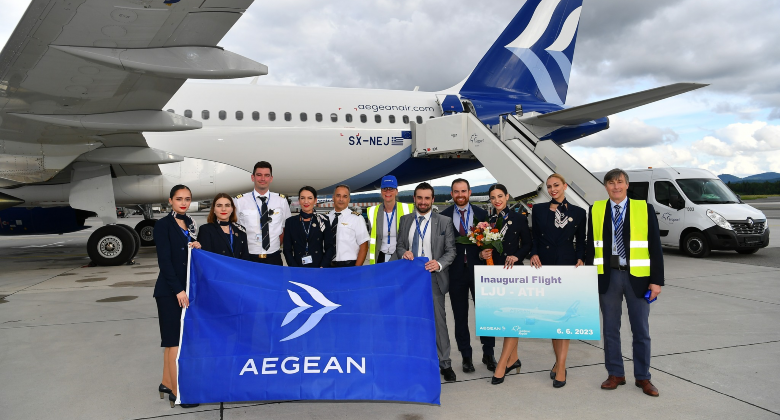 Aegean Airlines launched a new 2-weekly seasonal service between Athens and Ljubljana on Tuesday 6 June. The 1,210-kilometre route will be maintained on Tuesdays and Fridays, with the A320 aircraft. The Star Alliance member faces no competition on the route. The two cities were last served by Aegean Airlines in 2016.
Flight A3968 departs Athens at 17:15 local time, arriving in Ljubljana at 18:15 local time. The inbound service, operating as flight A3969, takes off from the Slovenian capital at 19:00 local time, touching back down in Greece at 21:45 local time.
What they said
Babett Stapel, the General Manager of airport operator Fraport Slovenija, said: "We are pleased that Aegean Airlines has recognised the potential of the Slovenian market. Ljubljana is now also linked to Greece with scheduled flights. The establishment of this route is appealing to passengers who want to visit Athens, as well as those who want to reach the Greek islands or continue their journey to the Middle East and Asia via their hub."
Ljubljana is Europe's slowest recovering capital city airport
The airport in Ljubljana is struggling to recover its pre-pandemic passenger volumes and has been declared the slowest recovering among the continent's capital cities. Between January and May of this year, it achieved just 60% of its pre-Covid traffic figures. The reason for its underperformance lies in the bankruptcy of Slovenia's national airline and Ljubljana's main operator Adria Airways. The carrier declared bankruptcy in September 2019, with the airport unable to recover its traffic ever since. Further amplifying the airport's problems is that the former national airline handled a notable number of transfer passengers. Without any other scheduled carrier based in Ljubljana and a low LCC presence, the airport does not expect to return to its pre-Covid passenger levels until 2026.