New Route of the Day (6 June 2023): Eurowings between Prague and Rhodes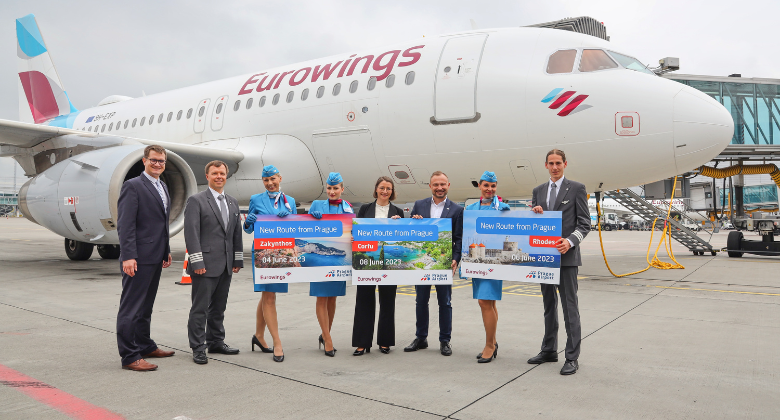 Eurowings commenced seasonal flights between its Prague base and Rhodes on Tuesday 6 June. The 1,890-kilometre route will be maintained 2-weekly on Tuesdays and Saturdays with the A319 aircraft. The airline faces direct competition from Smartwings, which maintain flights between the two airports 13-weekly, and Ryanair's 2-weekly service.
Eurowings is adding a further two Greek leisure routes from Prague during S23. They include a weekly service to Zakynthos launched 4 June and a weekly service to Corfu starting 8 June.
What they said
Jens Bischof, CEO of Eurowings, said: "Prague and Eurowings are a match. We made the move to the Czech Republic when the situation was still very uncertain, but it is becoming increasingly clear that people all over Europe want to travel again after the coronavirus restrictions."
Jaroslav Filip, Director of Aviation Business at Prague Airport, added: "In summer, Eurowings took many guests to popular tourist destinations and also expanded the offer in winter. After the first year, it is clear that this is a successful cooperation that we will continue to expand in the future."
Eurowings now serves 24 destinations out of Prague
The Lufthansa Group airline has quickly established itself on the Czech market and now serves 24 destinations. Of those, 14 are year-round, while 10 are summer seasonal. The carrier plans to discontinue its service from Prague to Birmingham on 27 October but will replace its with the Georgian capital of Tbilisi on 30 October. Eurowings currently has three aircraft based in the Czech capital.
Prague targets 13.3 million passengers
Passenger numbers at Prague soared by more than 145% to 10.7 million in 2022 - with a further 24% of growth forecast for 2023, when 13.3 million passengers are expected to pass through the airport. This year has seen a number of new destinations introduced, as well as frequencies increased on over 40 routes. Korean Air launched its Seoul ICN route in March, while China Airlines will commence a new direct route to Taipei in July. Cyprus Airways, FlyOne, and Icelandair are among the new European carriers introducing flights to Prague this year. Alongside Eurowings' new additions, other new routes include Bilbao, Dubrovnik, Gdansk, Rimini, Sevilla, Skiathos, and Yerevan.