New Route of the Day (6 May 2022): Flyr between Oslo and Brussels BRU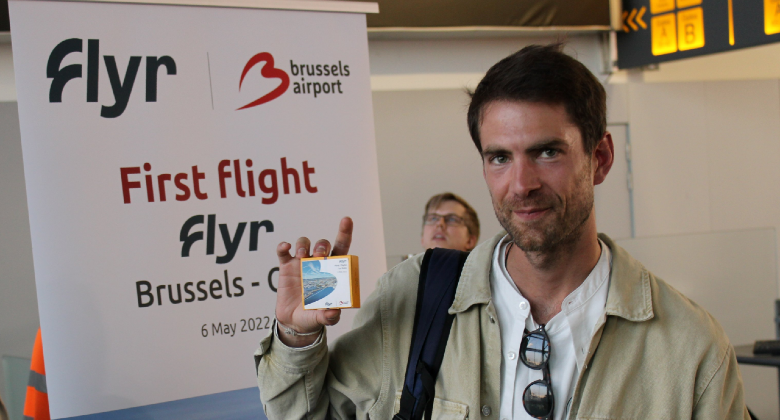 Norwegian (relative) newcomer Flyr has launched its first route to Belgium, with the start of 4-weekly service between Oslo and Brussels BRU on Friday 6 May. The 1,115-kilometre route will be flown every Monday, Wednesday, Friday and Sunday for the rest of the summer season using Flyr's fleet of 737s. However, according to the airline's on-line booking tool, Monday flights are suspended during July.
Competition on the route comes from Brussels Airlines and SAS. The Belgian flag-carrier is offering 12-weekly flights using its 141-seat A319s, while SAS is planning between 9- and 11-weekly flights this summer using a mix of its own 737s and A320-series aircraft, as well as CRJ900s operated on its behalf by CityJet.
Carried over 120,000 passengers in April
Flyr's most recently published traffic statistics for April, show that it carried 122,600 passengers at a load factor of 61.6%. It operated scheduled flights to a total of 21 scheduled destinations, with an average sector length of 1,105 kilometres. It operated 98.1% of its scheduled flights and 88.8% of its flights arrived 'on time'. Since starting operations on 30 June 2021, it has transported a total of 562,700 passengers with an average load factor of 53.2%.
Since the start of the summer season, Flyr has added new routes from Oslo to Barcelona, Berlin, Billund, Edinburgh, Palma de Mallorca, Prague, Stockholm ARN and Zadar. On the same day that Flyr launched flights to Brussels it also began 2-weekly service to Pisa (increasing to 3-weekly in July). Looking ahead, the airline planes to add many more, new international routes from Oslo this summer:
9 June: Ibiza (2-weekly), Venice VCE (3-weekly)
11 June: Montpellier (2-weekly), Naples (2-weekly) and Thessaloniki (2-weekly)
13 June: Dubrovnik (3-weekly)
14 June: Palermo (2-weekly)
18 June: Alghero (2-weekly)
23 June: Madrid (2-weekly)
30 June: Athens (2-weekly) and Valencia (2-weekly)
1 July: Porto (2-weekly)
15 August: Hamburg (4-weekly)
According to planespotters.net, the airline's fleet currently comprises six 737-800s and four 737 MAX 8s, with two further MAX 8s set to join the airline this summer. All are equipped with 189 seats.