New Route of the Day (6 May 2023): Loganair between London LHR and City of Derry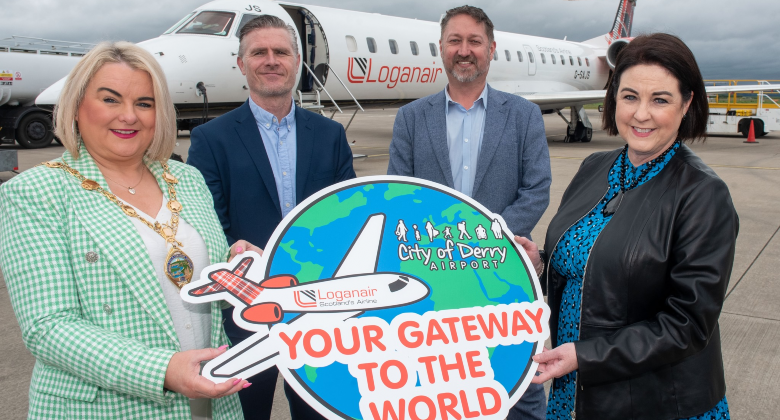 Scottish regional carrier Loganair commenced operations between London LHR and City of Derry on Saturday 6 May, linking the two airports for the first time. The 600-kilometre service will be operated 19-weekly with the 49-seat ERJ-145. The airline faces no competition on the government-supported Public Service Obligation (PSO) route. It previously flew from London STN to the City of Derry up until 6 May, after which the route was transferred to Heathrow.
What they said
Steve Frazer, Managing Director at City of Derry Airport, said: "Gaining international hub access is a substantial step in the economic and strategic growth of the region and our vision for the future of the Airport. Demand for access to the Northwest from international leisure, corporate markets, and university students, coupled with globally recognised events such as The Open being hosted on our doorstep in Portrush in 2025, means that City of Derry Airport is in a position to bring considerable tourism opportunities and economic growth to the local area. In terms of outbound travel, London Heathrow will truly open a 'Gateway to the World', as passengers will be able to book single ticket connections to and from City of Derry Airport via London Heathrow to 119 destinations in 56 countries."
Joanna Taso, Aviation Director at Heathrow, added: "We are delighted to be celebrating the inaugural departure. Loganair's new domestic route to the City of Derry will open up lifeline connectivity and global business opportunities via Heathrow, the UK's gateway to the world. Their expanded operations are supported by our domestic passenger discount and demonstrate Heathrow's longstanding commitment to regional connectivity."
Loganair launches three regional routes from Heathrow
The introduction of flights between London LHR and the City of Derry is part of Loganair's wider expansion from London's busiest airport after it secured 30 weekly slots through a lease agreement with British Airways. On 8 May, the regional carrier introduced flights from Heathrow to Dundee, shifting the service over from London LCY, as well as to Sumburgh, which operates via Dundee. The new network additions complement the airline's existing route from London LHR to the Isle Of Man.
Changes to Heathrow's tariffs for regional aircraft operating on UK domestic routes took effect from 1 January 2023. The new tariffs are seen as crucial to the viability of Loganair's new Heathrow operations.
City of Derry traffic halves within fifteen years
Located in the northwest corner of Northern Ireland, City of Derry serves the city of Derry/Londonderry. Traffic at the airport peaked in 2008 at almost 450,000 passengers thanks to Ryanair which launched a number of routes. However, the ULCC discontinued all its services out of the City of Derry by late 2020. As a result, passenger numbers have more than halved to just over 163,000 in 2022.  In 2021, Ryanair resumed a single route from the City of Derry to Manchester. On the other hand, Loganair maintains flights to Glasgow and Liverpool in addition to the new Heathrow service.