New Route of the Day (7 August 2023): Air Montenegro between Podgorica and Sarajevo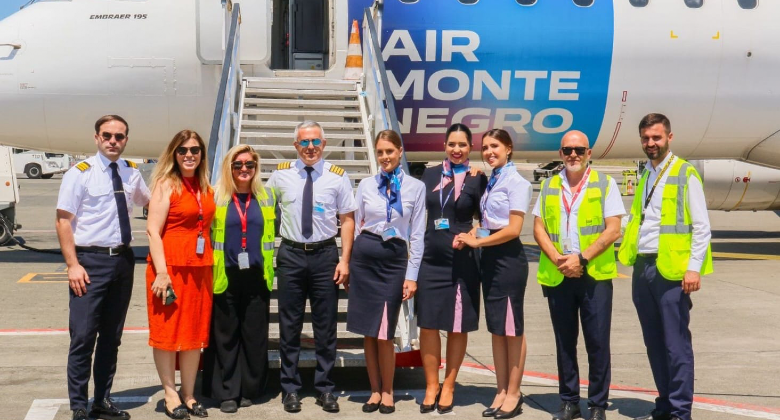 Air Montenegro launched a new seasonal regional service between its Podgorica base and Sarajevo, the capital of Bosnia and Herzegovina, on Monday 7 August. The 180-kilometre route will be maintained weekly until 11 September with the E195 aircraft. The Montenegrin carrier faces no competition on the route.
Flight MNE180 departs Podgorica at 10:50 local time, arriving in Sarajevo at 11:30 local time. The return service, operating as flight MNE182, takes off from Bosnia and Herzegovina's capital at 15:10 local time, touching down back in Montenegro at 15:50.
Flights restored after five years
Despite the close proximity between Podgorica and Sarajevo, poor road connectivity and challenging terrain make flying the most convenient way to travel between the two capitals. The two cities were last linked by flydubai in March 2018. The airline held fifth-freedom rights to operate 2-weekly return flights between the two cities with its 737-800 aircraft. However, the service was scrapped after just one season due to low demand. Prior to that, Bosnia and Herzegovina's now-defunct national carrier B&H Airlines maintained operations between the two in the summer of 2009 with its ATR72 turboprop aircraft. Similarly, the route was short-lived and lasted just a single season.
It is important to note that Air Montenegro has primarily launched the limited new service as it needs to ferry its aircraft to Sarajevo to operate a weekly charter flight between Bosnia and Herzegovina's capital and Tirana in Albania, for which it has been contracted by local tour operators.
Air Montenegro becomes IATA member
Air Montenegro become the 306th member of the International Air Transport Association (IATA) this week. The carrier has been allocated the designator code "4O". It marks a significant milestone for the airline, as it will now be able to conclude codeshare agreements and elevate its commercial cooperation with other carriers.
The state-owned Air Montenegro launched operations in the summer of 2021 after the heavily indebted former national carrier Montenegro Airlines filed for bankruptcy in December 2020, when the government declared it could no longer provide state aid for the loss-making company, which was further burdened by the effects of the coronavirus pandemic. Air Montenegro is not the successor to Montenegro Airlines but purchased two of its E195 aircraft.