New Route of the Day (7 August 2023): Smartwings between Ceske Budejovice and Rhodes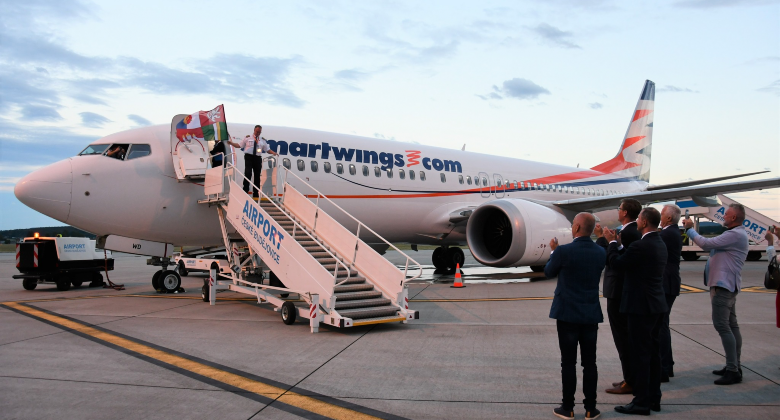 Smartwings introduced a new seasonal service between Ceske Budejovice in the Czech Republic and Rhodes on Monday 7 August, less than a week after the Czech airport opened for commercial traffic. Services will be maintained weekly with the 737-800 aircraft. No other airline maintains flights between the two points.
Flight QS2332 departs Ceske Budejovice at 21:10 local time, arriving in Rhodes at 01:10 local time the following morning. The return service, operating as flight QS2333, takes off from Rhodes at 18:00 local time, touching down in the Czech city at 20:10 local time.
What they said
Martin Kuba, the Governor of the South Bohemia Region, said: "Today is an important day. Recently, the first plane ever took off with people from South Bohemia, taking them on their holidays. It's a moment that was preceded by months of very hard work and negotiations. And now we can finally say: Ceske Budejovice Airport is alive! It was my personal priority and the political promise I made to South Bohemia. Smartwings already flies to Turkey and from today to Greece too. Next year, planes will be heading from here throughout the summer season to other destinations as well. The airport has huge potential, which we want to develop. We would like to bring more airlines too, which would do business here and which would expand the range of services for passengers."
Petr Sujan, Sales Director at Smartwings, added: "We are pleased that it is our airline that, in cooperation with the Cedok tour operator, launched the first ever flight from Ceske Budejovice Airport. This is already the sixth airport in the Czech Republic from which Smartwings operates flights. In July of this year alone, 770,000 passengers flew with us from Czech airports, 12% more than in the same period last year."
Five routes from Ceske Budejovice in 2024
Ceske Budejovice Airport, located in the Czech Republic's South Bohemian Region, is the country's newest commercial airport. Opened 2 August, Smartwings has commenced operations to Antalya. Heraklion will follow on 14 August for a total of three routes. All will be maintained weekly for the remainder of S23. Smartwings is operating these flights on behalf of the local Cedok tour operator.
During S24, Smartwings will add a further two destinations from Ceske Budejovice. They will include Efidha in Tunisia and Burgas in Bulgaria, while those introduced this year will all be restored. The exact launch dates for the new additions are yet to be announced.