New Route of the Day (7 June 2022): Qatar Airways between Doha and Santorini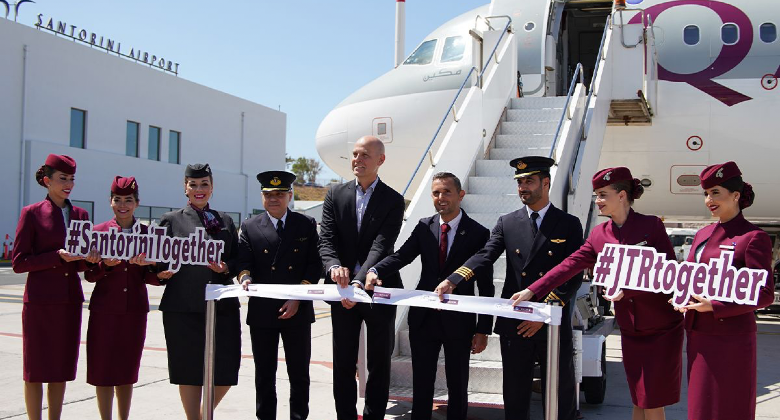 Qatar Airways launched its first new European route of 2022 when it added non-stop service from Doha to Santorini in Greece on 7 June. There will be 3-weekly flights on the 2,775-kilometre route which is not operated by any other carrier. The route will be flown utilising the airline's two-class, 144-seat A320s. It becomes the airline's third route to Greece. It has been serving Athens for many years (and will operate 2-daily flights this summer) and also started service to Mykonos in May 2018, a route it will serve 4-weekly this summer. Thessaloniki was also served non-stop from Doha by Qatar Airways from March 2018 until the start of the pandemic in 2020. However, service there has not yet been resumed.
Several European routes not yet resumed
Analysis of Cirium schedule data shows that Thessaloniki is not the only European destination that has yet to be resumed by Qatar Airways. The following airports (all served in August 2019) will not be served by the oneworld alliance carrier this August; Birmingham, Cardiff, Gothenburg, Izmir, Lisbon, Malta, Nice, Pisa, Skopje, St. Petersburg and Venice.
What they said
His Excellency Mr. Akbar Al Baker, Group CEO, Qatar Airways, said: "The Greek Isles are a leading tourist destination and an important market for Qatar Airways. There is high interest from across our network for flights to Santorini, specifically in the leisure segment. We are committed to offering our passengers as many seamless one-stop connection choices as possible. I am sure visitors from the Middle East, Asia, Australia and the Americas will be pleased to have Santorini served by our airline."
Mr. Alexander Zinell, CEO, Fraport Greece, said: "We feel honoured that Qatar Airways has included Santorini in its network and is expanding its presence at the Fraport Greece operated airports. Greece offers to the world some truly iconic holiday destinations and Qatar Airways now makes Santorini accessible from numerous new markets via its Doha hub. The 5-star Qatar Airways product is a perfect match to outstanding Santorini. The travel experience has been further upgraded as our brand-new Santorini Airport Terminal is now completed. We will continue to work with Qatar Airways and partners offering highly efficient airport operations and passenger experience worthy of the Santorini brand name."