New Route of the Day (7 June 2023): China Southern between Beijing PKX and London LHR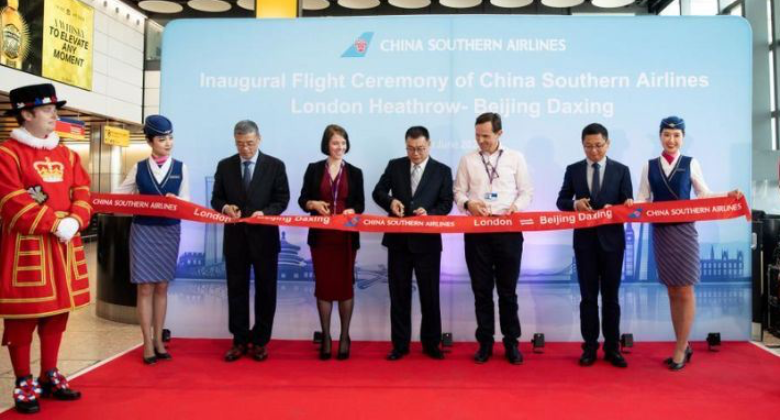 China Southern launched flights between Beijing PKX and London LHR on Wednesday 7 June. The 8,215-kilometre service will be maintained daily with the 314-seat A350-900 aircraft. It competes directly against British Airways' 4-weekly flights between the two airports.
Flight CZ673 departs Beijing PKX at 11:15 local time, arriving at London LHR at 15:45 local time. The return service, operating as flight CZ674, takes off from London LHR at 22:30 local time, touching down back in the Chinese capital at 15:25 local time the following day.
What they said
Chen Ke, General Manager in London for China Southern, said: "The launch of this air route will hopefully bring new vitality to connections and cooperation between Britain and China, as well as promote exchanges between the people of the two countries. Since last January, China's aviation market has seen passenger growth of 120 percent compared to 2019. Aviation transport globally in May was growing at 80 percent. Therefore, we are confident in the recovery of the Chinese market."
Joanna Taso, Aviation Director at London Heathrow Airport, added: "It is absolutely significant what we've seen since the start of the year as the travel restrictions have eased post-pandemic. We're seeing the routes have started to open up and the airlines start to fly again. This is the start of bringing back Chinese carriers."
Seven Chinese carriers serving Heathrow
Seven airlines from mainland China maintain flights to Heathrow from eleven cities, with another to be added shortly. Air China operates from Beijing PEK and Chengdu, Beijing Capital Airlines from Qingdao, China Eastern from Shanghai PVG, Hainan Airlines from Changsha, Shenzhen Airlines from Shenzhen and Tianjin Airlines from Chongqing, Tianjin and Xi'an. Furthermore, Chine Southern operates flights from Guangzhou in addition to the new Beijing PKX service. Hainan Airlines will link London LHR with another Chinese city from 21 June by introducing flights from Haikou.