New Route of the Day (7 November 2023): TUI Airways between Newcastle and Sal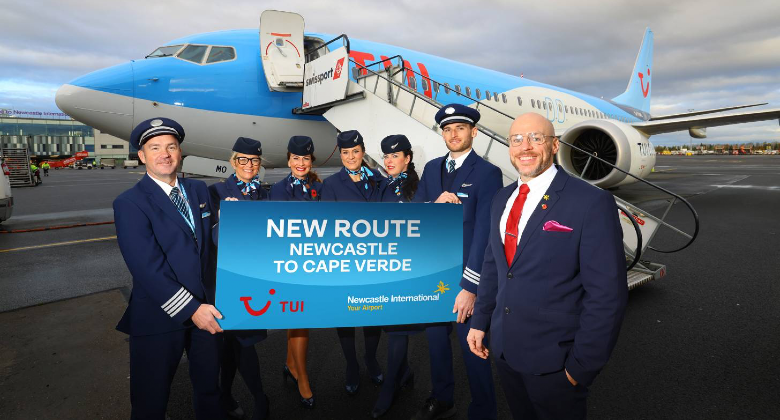 TUI Airways introduced flights between Newcastle and Sal in Cape Verde on Tuesday 7 November. The 4,620-kilometre service will be maintained weekly with the 189-seat 737 MAX 8 aircraft. TUI faces no competition on the route.
Flight BY800 departs Newcastle at 09:30 local time, arriving in Sal at 15:05 local time. The return service, operating as flight BY801, takes off from the island at 16:15 local time, touching back down in the UK at 23:35 local time.
What they said
Phillip Iveson, Commercial Director at TUI, said: "The inaugural flight from Newcastle International Airport to Sal, Cape Verde, marks an exciting new chapter for people in the North East, who now have more choice and flexibility when it comes to choosing their dream holiday. Cape Verde is well known for its year-round sun, and we are confident those flying from Newcastle Airport will enjoy all the island has to offer. At TUI, we're really proud of our unrivalled regional flying program and Newcastle International Airport is such an important part of this. We're looking forward to continuing to grow this partnership by adding even more destinations to our flying program such as today's inaugural flight."
Leon McQuaid, Director of Aviation Development at Newcastle Airport, added: "We are delighted that TUI have reacted to feedback from the North East travelling public and have added Sal, Cape Verde to their holiday programme from Newcastle International Airport. This investment represents TUI's confidence in the airport and their commitment to providing even more choice for passengers. With flights and package holidays on sale until Spring 2025, TUI now serve 29 sun and city destinations from the region, and thanks to their biggest ever programme on sale, we look forward to welcoming even more passengers through our doors."
TUI Airways to base additional aircraft in Newcastle
TUI Airways' new service between Newcastle and Sal will operate on a year-round basis, as the carrier plans to strengthen its presence at the airport in 2024. It will base its fourth aircraft in Newcastle for the 2024 summer season, densifying its existing network and adding an additional 120,000 seats on the market compared to summer 2023. As a result, it will boast its largest ever holiday programme from Newcastle Airport.
With the addition of Sal, TUI now maintains seven year-round destinations from the airport, complementing a further 29 seasonal routes in 12 countries.
TUI Airways serves Sal from seven airports
Newcastle becomes the seventh UK airport to be linked to Sal through TUI Airways. The airline also maintains operations to the island from Birmingham, Bristol, East Midlands, Glasgow, London LGW and Manchester.
Cape Verde is an archipelago state located off the west coast of Africa in the Atlantic Ocean. The country gained independence from Portugal in 1975. Cabo Verde has become a popular tourist destination, known for its beaches, diverse landscapes, and vibrant culture.