New Route of the Day (7 September 2022): easyJet between Bristol and Belfast BHD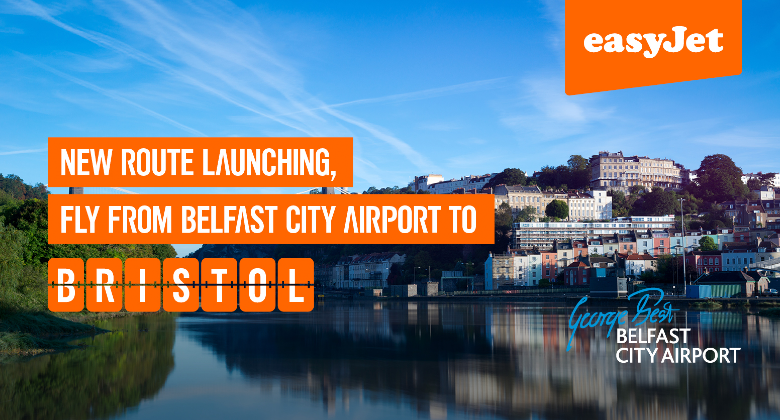 easyJet has further expanded its presence at Belfast BHD with the addition of a 3-weekly service from its base at Bristol. The first flight on the 420-kilometre route was on Wednesday 7 September. Service will operate on Wednesdays, Fridays and Sundays for the rest of the summer season and also through the winter season. According to Cirium schedule data the two airports were last connected in June 2012 when Flybe operated the route with its Q400s.
This becomes easyJet's third route from Belfast BHD. Service from London LGW began in July 2021 while Liverpool service started on 1 July this year. A fourth route from Glasgow GLA is set to begin at the end of October.
What they said
Ali Gayward, easyJet's UK Country Manager, said: "We are delighted to be launching our first flights from Belfast City to Bristol for the winter, providing more choice for business and leisure travellers wishing to connect to one of England's most popular city destinations. We continue to further strengthen our network in Belfast, having recently added services to London Gatwick, Liverpool, and Glasgow from Belfast City which are already proving very popular with our customers. As Belfast's largest airline, we remain committed to offering customers a wider range of flight options and great value fares."
Ellie McGimpsey, Aviation Development Manager, Belfast City Airport, said: "It is great to see flights to Bristol taking off with easyJet, adding another route to our comprehensive network of domestic destinations. We are confident that Bristol will prove popular with business and leisure passengers alike, with the convenient flight times and three-times weekly service giving travellers a hassle-free link to the southwest of England. This new route adds to easyJet's portfolio at Belfast City, with services to London Gatwick and Liverpool already operational and flights to Glasgow set to commence in October."
Complements existing Belfast BFS service
easyJet has been connecting Bristol and Belfast BFS ever since it acquired Go in 2002. The LCC launched by British Airways in 1998 had started the route on 18 September 2001, just a week after '9/11'. easyJet now offers up to 3-daily flights on the route. The Belfast BHD route becomes the ninth domestic route easyJet has ever offered from Bristol. The full list is:
Aberdeen: 2021
Belfast BFS: 2002-2022 ongoing
Belfast BHD: 2022 ongoing
Edinburgh: 2002-2022 ongoing
Glasgow: 2002-2022 ongoing
Inverness: 2005-2022 ongoing
Isle Of Man: 2015-2022 ongoing
Jersey: 2021
Newcastle: 2002-2022 ongoing