New Route of the Day (8 April 2022): Condor between Vienna and Palma de Mallorca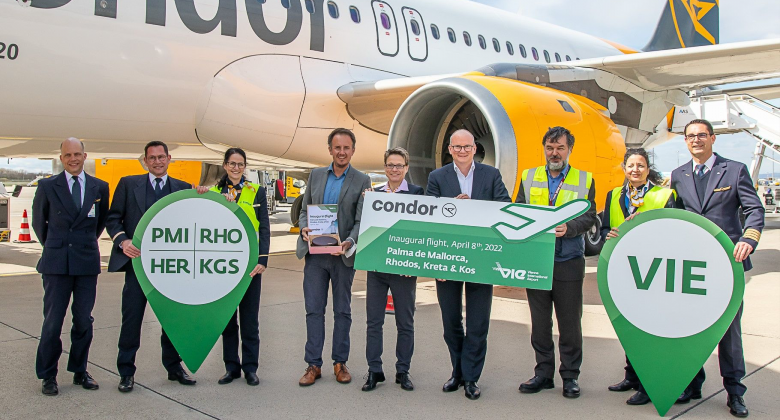 Although Condor is a German leisure airline, it will also be offering flights this summer to holiday destinations from Vienna in Austria and Zurich in Switzerland. Condor last served the Austrian capital in January 2018 with flights to three destinations in the Canary Islands. On 8 April, the airline returned with the first of four new routes, to Palma de Mallorca. The route will initially be served 3-weekly (Mondays, Fridays and Sundays) using 180-seat A320s, increasing to 4-weekly in June with the addition of a Wednesday service. Competition on the 1,460-kilometre route comes from Ryanair (up to 33-weekly this summer) and Austrian Airlines (up to 16-weekly). Next month, Condor will launch additional new routes from Vienna to three destinations in Greece; Heraklion (21 May), Kos (20 May) and Rhodes (22 May).
Zurich network down from nine to six routes in 2022
The airline's network from Zurich this summer comprises the same four destinations served from Vienna, plus Ibiza and Larnaca. However, last August Condor was also serving Gran Canaria, Olbia and Tenerife TFS from the Swiss airport. These three services have not resumed in 2022. As a result, it will be offering 21 weekly flights from Zurich in August 2022 compared with 25 in August 2021, according to Cirium data. Condor had begun serving Zurich on a regular basis in March 2021.
More new routes to Palma de Mallorca from Friedrichshafen and Nuremberg
Not satisfied with launching one new route to Palma de Mallorca, Condor also added service to the Balearic Island airport from Friedrichshafen (weekly increasing to 3-weekly from 24 May) and Nuremberg (4-weekly increasing to daily). Friedrichshafen welcomed back Condor after a gap of 11 years, while the carrier had last served Palma de Mallorca from Nuremberg in the summer of 2007.
These three new Palma de Mallorca routes mean that Condor will now be serving the Spanish airport from 10 airports this summer, compared with seven last summer. From Frankfurt and Düsseldorf, Condor will be offering five daily flights during the peak summer season.