New Route of the Day (8 June 2023): PLAY between Reykjavik and Dusseldorf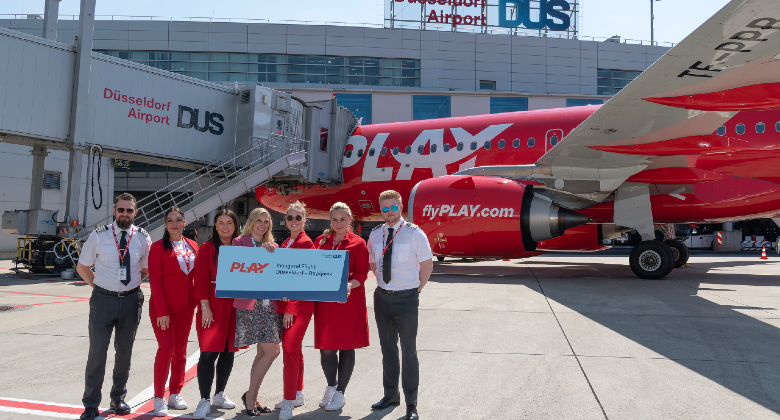 PLAY 
launched a new seasonal service between Reykjavik and Dusseldorf on Thursday 8 June as it continues to expand operations this summer. The Icelandic carrier will maintain the 3-weekly 2,220-kilometre route on Tuesdays, Thursdays and Saturdays, with its A320neo aircraft. The LCC will compete directly against Eurowings' 4-weekly flights between the two airports.
The outbound service, operating as OG730, departs Keflavik Airport near Reykjavik at 06:05 local time, arriving in Dusseldorf at 11:25 local time. The inbound flight, operating as OG731, takes off from the German city at 12:20 local time, arriving in Iceland's capital at 13:55 local time.
What they said
Birgir Jonsson, the CEO of PLAY, said:
"Dusseldorf Airport is the perfect addition to our growing route network. PLAY connects the Rhine metropolis and its large catchment area with Iceland and North America. We look forward to a long-term partnership and to offering our passengers a great travel experience, even on a budget."
Lars Redeligx, CEO of Dusseldorf Airport, added: "With PLAY we welcome an exciting new partner who enriches our flight plan. Leisure and business travellers now have additional options to the trend destination of Iceland and from there to five cities in North America. The use of the modern Airbus neo is pleasing and in line with our sustainability initiatives. We warmly welcome PLAY and look forward to a good working relationship."
PLAY adds six routes in June
PLAY is continuing its rapid expansion this year with the addition of six routes in June alone, while the carrier has also restored services to Amsterdam following a three-month hiatus. In addition to the new Dusseldorf flights, the Icelandic LCC is growing its network this month with the addition of Athens, Aalborg, Billund, Hamilton and Venice VCE for a total of 37 destinations.
PLAY currently operates a fleet of 10 aircraft, including six A320neos and four A321neos.
In early 2023, the airline's A321neos began seating reconfigurations to increase their capacity from 192 to 214. The number of seats on its A320neos vary between 174 and 180 seats.