New Route of the Day (8 September 2021): Kuwait Airways between Kuwait City and Amsterdam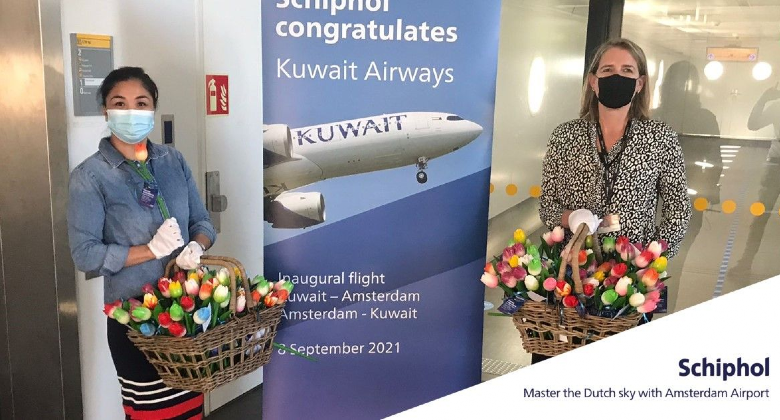 Kuwait Airways launched a new European service on Wednesday 8 September when it began 2-weekly service to Amsterdam. The inaugural service on the 4,360-kilometre route (flight number KU 127 operated by a Boeing 777-300ER, registration 9K-AOI) departed Kuwait City at 10:41 and touched down in Amsterdam five hours and 18 minutes later at 14:59 local time. The return flight (KU 128) departed the Dutch airport at 18:00 and arrived back in Kuwait five hours and 23 minutes later at 00:23 local time. The other weekly flight is scheduled for Saturdays.
The airline had started cargo services to Amsterdam (using passenger aircraft) earlier in the year and had most recently served Amsterdam non-stop in October 2004. Competition on the route comes from KLM, which is currently operating 2-weekly non-stop from Amsterdam to Kuwait, but returning via Dubai. Non-stop service in both directions is currently set to resume in December.
Now serving 11 destinations in Europe non-stop
According to Cirium Data and Analytics schedule information for September, Kuwait Airways is now operating non-stop service to 11 destinations in Europe with a total of 41 weekly flights. These are:
12-weekly: Istanbul IST
6-weekly: Bodrum
5-weekly: Istanbul SAW
4-weekly: London LHR
3-weekly: Trabzon
2-weekly: Amsterdam, Frankfurt, Geneva, Munich and Paris CDG
1-weekly: Malaga
Turkish routes account for 26 of the 41 weekly flights. The Kuwait-Turkey market is also served by Jazeera Airways (19 weekly flights), Pegasus Airlines (eight weekly flights) and Turkish Airlines (29 weekly flights). Among European carriers, only British Airways (3-weekly from Heathrow) and Lufthansa (4-weekly from Frankfurt) offer non-stop service to Kuwait at present.