New Route of the Day (9 December 2022): Air Serbia between Belgrade and Tianjin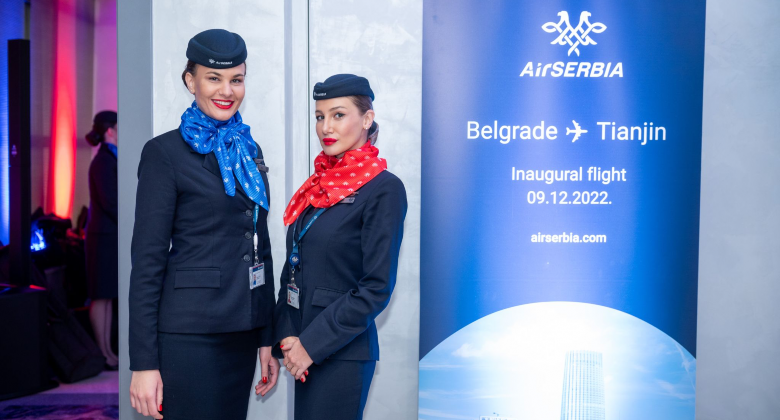 Air Serbia launched a new route to China of all places when it introduced a weekly service between Belgrade and Tianjin on Friday 9 December. Return flights take place on Sundays. This marks the first time in 22 years that the national airline has had direct flights to China. The 7,560-kilometre route will be flown by the airline's A330-200s. The carrier recently acquired a second aircraft of that type (registration YU-ARC) to join YU-ARB. The new delivery previously operated for SAA.
What they said
Jiří Marek, CEO of Air Serbia, said: "We opened a new chapter in our operations by enabling our passengers to fly directly to China, and we believe it will make their travels to this distant destination much easier. For some time, Belgrade has already provided good connectivity of the broader Balkan region to numerous destinations in the world. As of today, it's possible to fly from Belgrade to China, too. Our company is one of the few in Europe which offer direct flights to this Asian country. We are now flying to Tianjin, and in the future, we hope that we will be flying to other important Chinese cities as well."
Not the only European carrier serving Tianjin 2022
Considering that Tianjin ranked only 19th among Chinese airports in 2019 with 23.8 million passengers, it may come as a surprise that several other carrier have offered flights from Europe this year. According to Cirium data these include Air France from Paris CDG, LOT from Warsaw and Neos from Milan MXP. However, many of these operated less than weekly. Given that Tianjin is a major air cargo centre it is possible that many of these flights were operated primarily for cargo reasons. The coastal city is also only around 100 kilometres from Beijing. Flightradar24.com confirms that Neos's weekly service from Milan with 787-9s has been operating in recent months.