New Route of the Day (9 June 2022): PLAY between Reykjavik KEF and New York SWF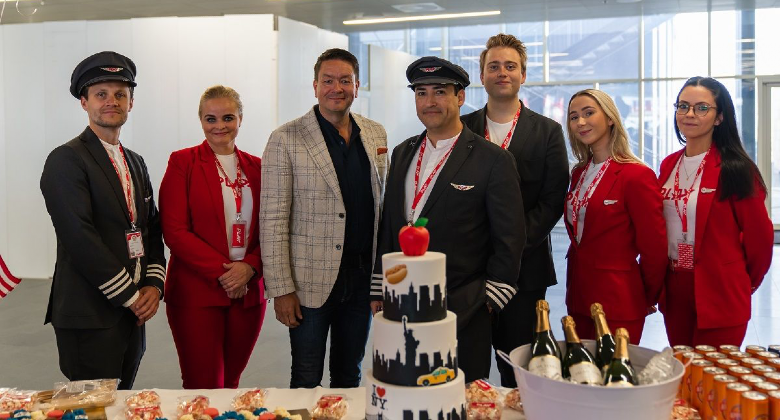 PLAY
launched its 13
th
new route this summer when it began daily service on 9 June from
Reykjavik
KEF to
New York
SWF. The 4,110-kilometre route will be flown using the airline's A320neos and A321neos. New York SWF previously welcomed European flights from Norwegian between June 2017 and September 2019. During that time the carrier operated flights from Belfast, Bergen, Dublin, Edinburgh and Shannon (but not Oslo or London LGW). PLAY has now launched 14 new routes this summer, with Madrid having been added on 15 June. The full list of new routes this summer is:
20 April: Baltimore/Washington
28 April: Dublin
5 May: Prague
11 May: Boston
13 May: Lisbon
20 May: Gothenburg
24 May: Brussels
26 May: Stavanger
29 May: Malaga
31 May: Trondheim
1 June: Palma de Mallorca
7 June: Bologna
9 June: New York SWF
15 June: Madrid
As a result, PLAY is serving 21 destinations from Iceland this summer. Seasonal (winter) service to Gran Canaria and Salzburg are set to resume this winter, while new routes to Liverpool (from 7 October) and Geneva (from 1 February 2023) are also bookable. Plans to serve Orlando MCO and Stuttgart have been abandoned. The airline released traffic statistics for May that showed it carried 56,601 passengers at a load factor of 69.6%. The on-time arrival performance was 88.9%. In the first five months of 2022 PLAY has transported 148,882 passengers at a load factor of 67.3%. May's passenger numbers were over 50% higher than in April, while the load factor fell just two percentage points.
What they said
Rick Cotton, Executive Director of the Port of New York and New Jersey, said: "This is a significant development for New York Stewart International Airport and the region and customers it serves. The addition of PLAY's international service is important in realizing our post-pandemic vision for New York Stewart as a leading regional provider of both international and domestic air service and as a generator of strong economic growth."