New Route of the Day – Americas (1 August 2023): LATAM between Sao Paulo GRU and Los Angeles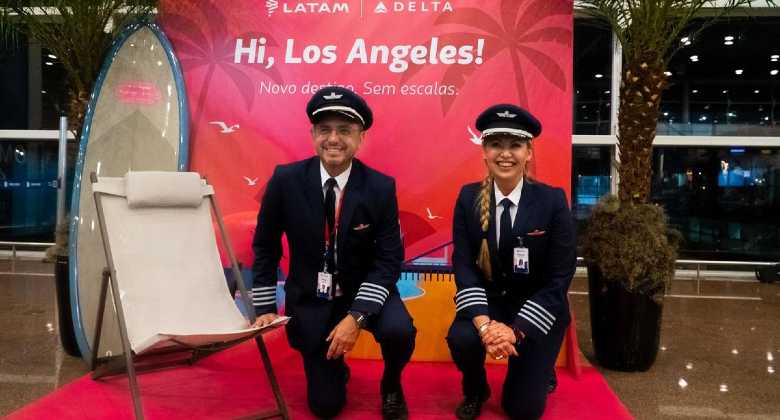 LATAM introduced a new long-haul service from its Sao Paulo GRU hub to Los Angeles on Tuesday 1 August. The 9,905-kilometre route will be maintained 3-weekly on Tuesdays, Thursdays and Saturdays from Brazil with the 410-seat 777-300 aircraft. Starting November, the airline will deploy its 300-seat 787-9 jet between the two cities. LATAM faces no competition on the route, which becomes the only non-stop service between Brazil and Los Angeles. Flights are being operated as part of a joint venture between LATAM and Delta.
Flight LA8086 departs Sao Paulo at 23:20 local time, arriving in Los Angeles at 07:35 local time the following morning. The return service, operating as flight LA8087, takes off from Los Angeles on Wednesdays, Fridays and Sundays at 13:15 local time, touching back down in Brazil's largest city at 05:15 the following morning.
What they said
Aline Mafra, Director of Sales and Marketing at LATAM Brazil, said: "With the start of this new international route, we continue with our commitment to increasingly connect Brazilians with the world and bring foreigners to discover the wonders of Brazil from our hub in Guarulhos."
Danillo Barbizan, Delta Sales Manager in Brazil, added: "The United States is one of the most sought-after international destinations for Brazilian travellers, so we are very excited to launch this route between São Paulo and Los Angeles in partnership with LATAM. This is the only direct flight to the West Coast from Brazil, which, in addition to being the fastest and most comfortable option for customers to explore this region of the United States, complements the numerous reciprocal benefits for frequent flyers, whether traveling for business or pleasure."
LATAM now serves five US routes from Brazil
LATAM serves Los Angeles from Lima in Peru and Santiago in Chile, in addition to Sao Paulo. The city becomes the airline's fifth route in the US out of Brazil, all of which are served from Sao Paulo GRU. The others include Boston, Miami, New York JFK, and Orlando MCO. It adds to Delta's daily flights from Sao Paulo GRU to Atlanta and New York JFK and, as of December, from Rio de Janeiro GIG to Atlanta and New York JFK (seasonal operation).
The new route will be able to carry an average of 110,000 travellers per year, representing nearly 65% of the number of Brazilian tourists the Los Angeles Tourism Economics Forecast predicts will visit the city in 2024.
The last time Los Angeles and Sao Paulo were linked with a non-stop air service was in March 2020 when flights were maintained by American Airlines. They were discontinued as a result of the pandemic and never restored. Previously, Korean Air held fifth freedom rights to fly between the two cities, maintaining the route until September 2016.
US-Brazil market served by six airlines
Brazil is the United States' second biggest South American market by seat capacity after Colombia, according to Cirium schedules information data. There are currently 23 non-stop routes encompassing 12 US airports and nine in Brazil. Detroit, which had Sao Paulo GRU flights until March 2019, remains unserved. In Brazil, Belo Horizonte and Salvador's last US flights were in March 2020. There's currently no indication if they'll return. Apart from LATAM and Delta, flights between the two markets are maintained by American Airlines, Azul, Gol and United.