New Route of the Day – Americas (1 May 2023): Aeromexico between Mexico City NLU and Houston IAH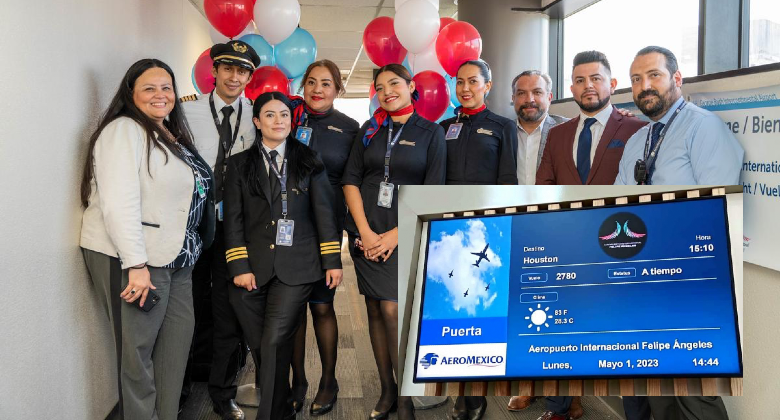 Aeromexico introduced flights between Mexico City NLU and Houston IAH on Monday 1 May, marking the first US route to be served out of the Mexican capital's newest international airport - Felipe Angeles (AIFA). The 1,235-kilometre service is maintained daily by Aeromexico's regional subsidiary Aeromexico Connect and its E190 jet.
Flight AM2780 departs Mexico City NLU at 15:10 local time, touching down at Houston IAH at 18:10 local time. The return service, operating as AM2781, takes off from Houston IAH at 07:40 local time, arriving in Mexico City NLU at 09:00 local time.
What they said
Orlando Mata, Corporate Communication Manager at Aeromexico, said: "Aeromexico is excited to grow our position as the airline with the most connectivity to and from the centre of Mexico. This will be the ninth destination Aeromexico serves from AIFA, and the first route to connect this airport with the United States. This flight will allow our customers to travel from Mexico City and any of the 8 domestic destinations which Aeromexico serves from AIFA (Acapulco, Cancun, Guadalajara, Monterrey, Merida, Oaxaca, Puerto Vallarta, and Veracruz) to the United States of America, increasing connectivity between the two countries."
Aeromexico grows US network despite FAA downgrade
Aeromexico was able to introduce this new service despite the US Federal Aviation Administration downgrading Mexico to Category 2 status in May 2021 due to the country not meeting the International Civil Aviation Organisation's safety standards. As a result, Mexican carriers are unable to launch new routes to the US, however, Aeromexico was granted authorisations as it already serves the route from Mexico City MEX, with the FAA noting it represents the introduction of the same route from a different airport.
According to the Mexican Federal Civil Aviation Agency, a total of 879,133 passengers flew between Mexico City and Houston in the pre-pandemic 2019. The Mexican flag carrier currently serves 22 routes between Mexico and the United States.
Felipe Angeles International Airport was opened in March 2022 and serves as the Mexican capital's second commercial airport. It handled 912,415 passengers last year. The airport is primarily served by Mexican and Central American carriers. Aeromexico currently boasts the biggest network out of the airport but will be overtaken by VivaAerobus during S23.