New Route of the Day – Americas (10 November 2023): Plus Ultra between Katowice and Margarita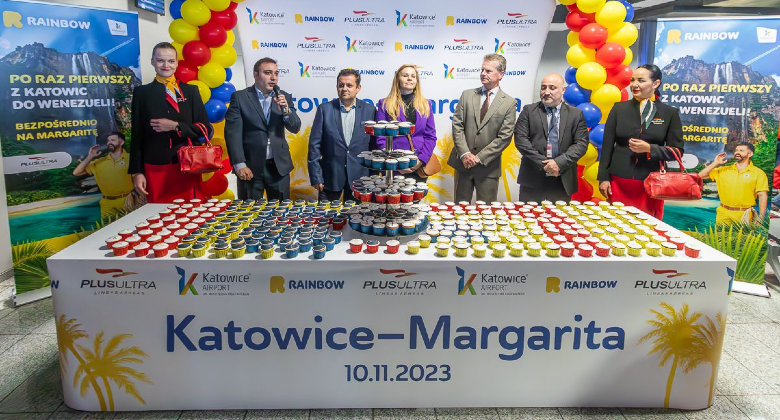 Charter carrier Plus Ultra inaugurated flights between Katowice in Poland and the island of Margarita in Venezuela on Friday 10 November. The 8,575-kilometre service, which is being maintained on behalf of the Rainbow Tours tour operator, will be maintained weekly with the 296-seat A330-300 aircraft. No other carrier flies on the route.
Flight PU973 departs Katowice at 09:00 local time, arriving in Margarita at 15:30 local time. The return service, operating as flight PU974, takes off from the island at 17:30 local time, touching back down in Poland at 09:30 local time the following morning.
What they said
Marta Goral, Communication Manager at Rainbow Tours, said: "Margarita is appealing not only for its Caribbean beaches but also for its breathtaking natural attractions. The convenience of starting vacations from Katowice Airport, strategically located for the entire south of Poland, makes destinations like Venezuela more accessible to clients. The new route is expected to be popular not only in the current season but also in the future."
Artur Tomasik, the President of the Board of Katowice Airport's operator Upper Silesian Aviation Group, added: "We are delighted with the partnership with Rainbow Tours and Plus Ultra. There is an increasing trend of passengers opting for vacation destinations from regional airports, and with approximately 2.6 million passengers handled on charter flights this year, Katowice Airport strengthens its position as a leader in this segment of air traffic in the country."
Katowice Airport has the most leisure flights in Poland
During the W23/24 season, Rainbow Tours is offering six nonstop long-haul charter routes from Katowice Airport. In addition to Margarita, services are also being maintained to Puerto Plata in the Dominican Republic, Cancun in Mexico, Varadero in Cuba, the Thai capital of Bangkok, as well as Phu Quoc in Vietnam. All of these are operated either by Plus Ultra or LOT Polish Airlines.
Katowice Airport is Poland's fourth busiest airport in terms of passenger volumes and the biggest in terms of the number of leisure flights, with a significant portion of them being long-haul. Katowice Airport is also Poland's only airport with more than one passenger terminal and the airport with the biggest number of based airlines. It serves the most industrialised region in Poland, which is considered one of the most urbanised areas in Europe.