New Route of the Day – Americas (11 December 2021): Spirit to Tegucigalpa/Palmerola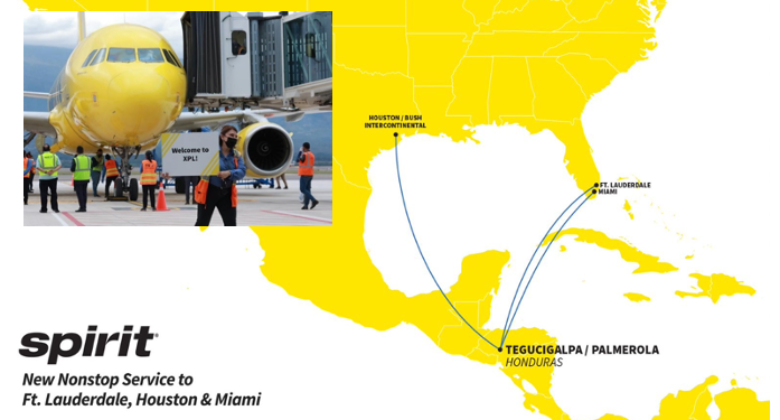 Spirit Airlines
on Saturday 11 December appears to have become the first US carrier to begin serving Comayagua International Airport, also known as Palmerola International Airport (IATA code XPL), which also doubles up as Enrique Soto Cano Air Base. The facility also serves the capital of Honduras,
Tegucigalpa
, which lies around 55 kilometres south-east of the airport. Spirit began flights from both
Houston
IAH (daily) and
Miami
(4-weekly) on the same day, with a daily Fort Lauderdale service set to start on 10 January. Originally all three services had been scheduled to launch on 17 November. The new airport offers an alternative to Toncontin International Airport (IATA code TGU), which lies within the city of Tegucigalpa and is famous for having one of the more challenging approaches for pilots. American serves this airport from Dallas/Fort Worth (3-weekly) and Miami (2-daily), while United operates daily flights from Houston IAH. It remains to be seen if these carriers will move their flights to the new airport.
Most routes of any US carrier to Honduras
Spirit started serving Honduras in July 2007, when it began flying to San Pedro Sula in the north of the country from Fort Lauderdale with 3-weekly service. Flights from Houston IAH followed in May 2015 and from Orlando in October 2018. Earlier this year, on 8 July, a fourth route, from New Orleans, began with 3-weekly service. Finally, last month saw Spirit launch a fifth route to San Pedro Sula, a 3-weekly service from Miami. As a result, once the Fort Lauderdale service to Tegucigalpa begins in January, Spirit will be offering a total of eight non-stop routes to Honduras. This compares with six from both American and United, two from Delta and just one from Sun Country.