New Route of the Day – Americas (11 May 2022): Air Transat between Québec City and London LGW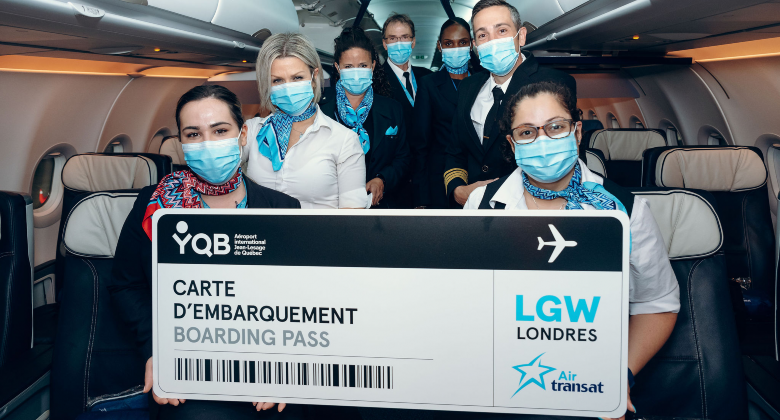 Air Transat has become the first carrier in at least 20 years to offer non-stop service between Québec City and London, with the launch of a weekly service on 11 May. Flights depart the Canadian city every Wednesday (at 23:55 local time) until 28 September using the airline's new 199-seat A321neos. Departures from Gatwick Airport are every Thursday at 13:05 until 29 September. The 5,030-kilometre route will complement Air Transat's other transatlantic service from Québec City, a 3-weekly service to Paris CDG, which resumed in April after having been suspended since the start of the pandemic.
What they said
Stéphane Poirier, President and CEO of Québec City Jean Lesage International Airport (YQB), said: "The people of the Greater Québec City area have been calling for access to more European destinations. By offering a second direct route to Europe, in addition to Paris, Air Transat is answering that call. As Air Transat chooses to invest in our market, we now hope that passengers will come back throughout the summer, proving to the airline that they were right to put their trust in us."
Joseph Adamo, Chief Sales and Marketing Officer, Transat, added: "With this new flight to London, Air Transat becomes the only carrier to offer our loyal travellers in the Quebec City area a second direct connection to Europe, after Paris, making it easier than ever for them to plan their vacations. At the same time, we are delighted to introduce British travellers to majestic Quebec City, the region's outstanding national parks and our gourmet culture."
Five new UK-Canada services in 2022 not offered in 2019
With this additional new route, passengers will now have a choice of 23 services this summer between Canada and the UK, down from 27 in August 2019. The number of weekly flights has also fallen, from 186 to 168, while overall seat capacity is down 14%. The following services are set to be flown in August, with weekly frequency shown in brackets:
Air Canada (74): Toronto-London LHR (21), Montreal-London LHR (14), Vancouver-London LHR (14), Calgary-London LHR (7), Halifax-London LHR* (7), Toronto-Edinburgh (6), Toronto-Manchester (5)
Air Transat (30): Toronto-London LGW (14), Montreal-London LGW (7), Toronto-Glasgow (4), Toronto-Manchester (4), Québec City-London LGW* (1)
British Airways (22): London LHR-Toronto (10), London LHR-Vancouver (7), London LHR-Montreal (5)
WestJet (42): Toronto-London LGW (9), Halifax-London LGW (7), Vancouver-London LGW (7), Calgary-London LGW (5), Calgary-Heathrow* (4), Toronto-Glasgow* (4), Halifax-Glasgow (3), Toronto-Edinburgh* (3)
*Not served in August 2019.
Toronto is by far the busiest Canadian airport with 80 weekly departures to the UK in August, followed by Vancouver (28), Montreal (26), Halifax (17), Calgary (16) and Québec City (one). In the UK, Heathrow dominates with 89 weekly departures, ahead of Gatwick (50), Glasgow (11), Edinburgh and Manchester (both with nine).
There are currently no flights to Canada from Birmingham. Air Transat was the last carrier to offer such flights, from Toronto in September 2017. Other UK airports to have had non-stop service to Canada since 2004 include Belfast BFS, Cardiff, Doncaster/Sheffield, Liverpool, London STN and Newcastle. The flights from Doncaster/Sheffield and Liverpool only operated in 2007, courtesy of FlyGlobespan.
Edmonton, Ottawa and Winnipeg currently lacking UK non-stop service
The following nine services offered in August 2019 are not available this summer according to analysis of Cirium schedule data:
Air Canada: Ottawa-London LHR (7), Toronto-Glasgow (3)
Air Transat: Vancouver-London LGW (7), Calgary-London LGW (3), Vancouver-Manchester (3)
British Airways: London LHR-Calgary (7), London LGW-Toronto (4)
WestJet: Edmonton-London LGW (1), Winnipeg-London LGW (1)
As a result, there are currently no non-stop services between the UK and Edmonton, Ottawa and Winnipeg, though they could possibly return in 2023. Other Canadian airports that have had non-stop flights to the UK in the past include Hamilton, Montreal-Mirabel and St. John's in Newfoundland.