New Route of the Day – Americas (12 December 2022): ZIPAIR between Tokyo NRT and San José SJC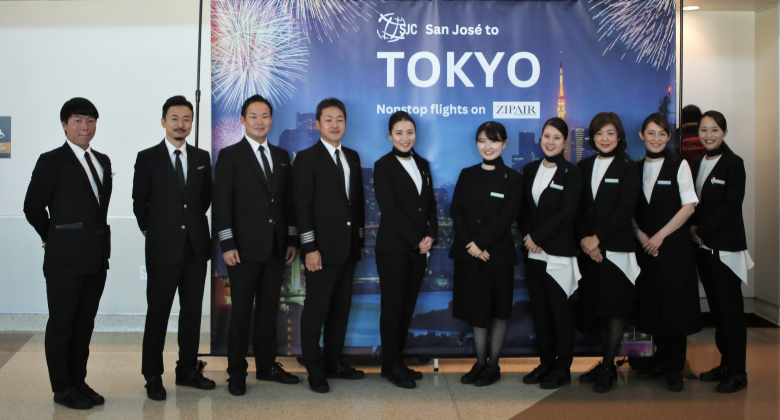 ZIPAIR (IATA code ZG), a wholly owned subsidiary of Japan Airlines, has added a third US destination from its home base at Tokyo NRT. On Monday 12 December the carrier began 3-weekly service (increasing to 5-weekly in January) on the 8,300-kilometre route to San José SJC in California. It will operate 290-seat 787-8s on the route. The airline's other two US routes are to Los Angeles (now served daily and launched on 25 December 2021) and Honolulu in Hawaii (which launched in December 2020 according to Cirium data).
The San José route was previously served by American (until October 2006) and by ANA (between January 2013 and March 2020).
What they said
John Aitken, Director of Aviation, SJC, said: "It's an exciting day as we officially welcome ZIPAIR to the San José community. ZIPAIR isn't just any airline; it's an entirely new kind of airline that leverages technology to provide an efficient, more accessible travel experience – a pretty great fit for Silicon Valley."
Yasuhiro Fukada, Director and Chief Marketing Officer, ZIPAIR, added: "Since the introduction of ZIPAIR in 2018, we have continued to expand our network, and this service from San José will become our sixth international route, which we hope provides customers a new convenient choice when traveling to Japan, not only once a year, but on multiple occasions."
Heathrow is only other long-haul route for SJC
San José now has two long-haul routes with British Airways having recently resumed its service from London LHR using 787-9s. Pre-pandemic, in February 2020, apart from ANA offering the Narita route, Hainan Airlines was also offering 3-weekly service from Beijing PEK.