New Route of the Day – Americas (12 February 2023): Air Canada between Montreal and New Orleans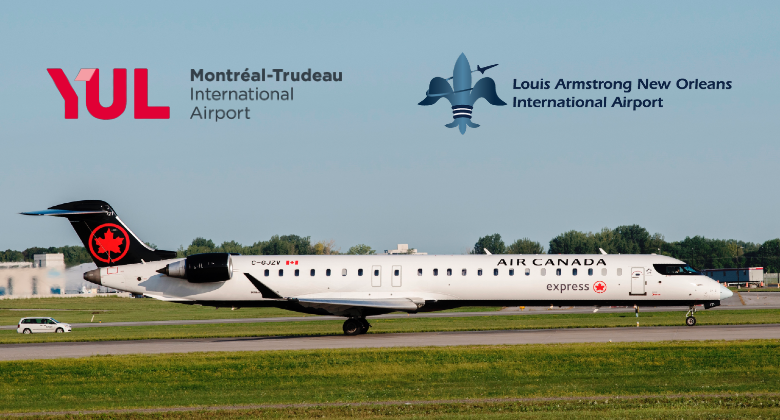 Air Canada inaugurated a 3-weekly service from Montreal to New Orleans on Sunday 12 February. Using CRJ900s operated by the Star Alliance member's partner carrier Jazz Aviation under the Air Canada Express brand, the 2,240-kilometre route is served each Wednesday, Friday and Sunday out of Montreal, and every Monday, Thursday and Saturday from New Orleans. Flight AC8559 departs Montreal at 16:45 local time, arriving in New Orleans at 19:28 local time. The return flight, AC8560, departs New Orleans at 08:00 local time, arriving in Montreal at 11:57 local time. Unfortunately, the inaugural flight from Montreal arrived over three hours late in New Orleans at 22:30 local time. The first return flight the following day departed almost four hour later than planned at 11:55 local time.
Air Canada's latest winter sun addition
The Montreal – New Orleans service forms part of Air Canada's winter sun network and is scheduled to operate only during the winter season, until the end of March. The carrier faces no competition on the route, which had previously been served by Air Transat between November 2019 and March 2020m and then again briefly between December 2021 and January 2022. Alongside its new seasonal service, Air Canada maintains daily year-round operations from Toronto YYZ to New Orleans, also operated by CRJ900s.
In 2019 New Orleans welcomed a total of 13.64m passengers, a new record for the Louisiana airport. However, only 218,000 of these were on international flights. In the first 11 months of 2022 the airport handled 10.90m passengers, suggesting that it will have processed just over 12 million passengers last year, around 12% fewer than in 2019.
Apart from Air Canada's services to Canada, New Orleans's only other international services in March, according to Cirium data, are:
British Airways to London LHR (3-weekly)
Southwest to Cancun (weekly)
Spirit to Cancun (4-weekly) and San Pedro Sula in Honduras (3-weekly)