New Route of the Day – Americas (13 May 2022): United between New York EWR and Ponta Delgada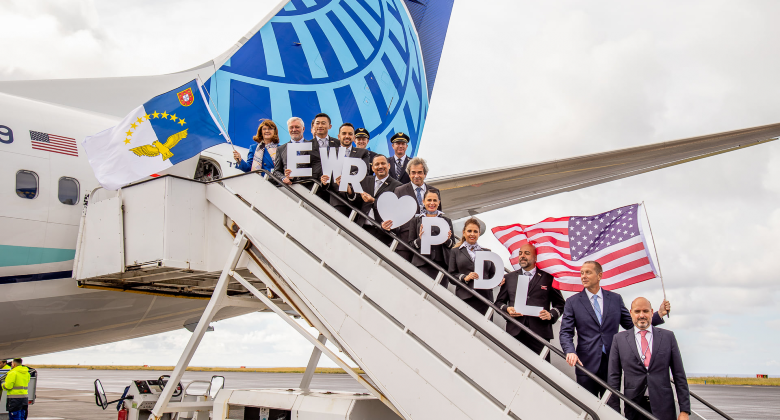 Another week and another new transatlantic route from United, this time between New York EWR and Ponta Delgada in the Azores. The first flight was scheduled to depart the US at 23:00 on Friday 13 May. However, according to flightradar24.com the aircraft selected for the first flight (a 737 MAX 8, registration N77259) left 13 minutes late at just after midnight, before arriving in Ponta Delgada four hours and 39 minutes later at 08:42 local time on Saturday 14 May. The aircraft then stayed on the ground for over 24 hours before departing back to New York at 11:21 local time on Sunday 15 May. This flight, on the 4,150-kilometre sector, took just under six hours. Frequency on the route will be 3-weekly for the first three weeks before becoming daily from 3 June. The seasonal service will operate until the end of September.
Increasing US options this summer
While United has not previously served Ponta Delgada, Delta operated seasonal flights from New York JFK for several years until September 2018. Local carrier Azores Airlines serves Boston year-round with up to 6-weekly flights using its A321neos. The airline is planning to start a second US route on 1 June, when service to New York JFK is introduced. This will operate either 3- or 4-weekly for the rest of the summer. In addition, for a few months in 2020, TAP Portugal offered 3-weekly service from Ponta Delgada to Boston, though given the strict travel restrictions to the US in place at the time, this may have been primarily for cargo purposes.
Over two million passengers in 2019
The archipelago of the Azores lies around 1,400 kilometres west of Lisbon in the Atlantic Ocean and just under 2,000 kilometres south-east of Newfoundland, Canada. Ponta Delgada João Paulo II Airport (named after Pope John Paul II who visited the Azores in 1991) welcomed just over two million annual passengers for the first time in 2019. Over 40% of passengers were flying to/from Lisbon, while a further 15% were on flights to/from Porto. The latest passenger statistics for March show that passenger demand is down only 10% compared with 2019.