New Route of the Day – Americas (14 July 2021): Central Mountain Air between Prince George and Campbell River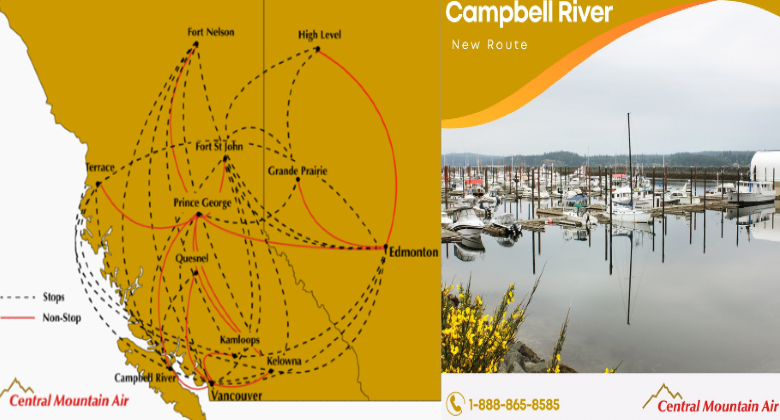 Central Mountain Air is a Canadian regional airline based in British Columbia. According to planespotters.net it operates a fleet of three 30-seat Dorner 228s, nine Dash 8s and 14 Beech 1900s. On 14 July the carrier launched a new, 2-weekly, non-stop service between Prince George (IATA code YXS) and Campbell River (IATA code YBL). The 470-kilometre route will operate every Wednesday and Thursday using the airline's Beech 1900s and faces no direct competition.
Campbell River is located in the centre of Vancouver Island which is the world's 43rd largest island. It is a gateway to some spectacular scenery and wilderness. Other airports on Vancouver Island with commercial services include Comox and Nanaimo. The southern tip of the island is home to Victoria, the capital of the province of British Columbia. Victoria International Airport is the island's busiest airport and was handling around two million passengers per annum before the pandemic.
Serves 12 airports in BC and Alberta
Central Mountain Air had only resumed flights from Campbell River on 12 July when it restarted service on the 170-kilometre route to Vancouver. Prior to the pandemic it had served this route with 3-daily flights. This July the carrier is operating from 12 airports; nine in British Columbia and three in neighbouring Alberta. These airports are linked by a total of 14 non-stop routes according to Cirium Data and Analytics, all of which are currently being served using the Beech 1900s.
The airline's busiest airport right now is Prince George with 32 weekly departures (spread across seven routes) followed by Edmonton with 19 weekly departures (across four routes) and Vancouver with 16 weekly departures (also across four routes). Back in February 2020 the airline served 15 airports. Since then it has added service to Grand Prairie in Alberta but suspended service to Calgary, Dawson Creek, Smithers and Williams Lake.
No flights on Saturdays
In total the airline is offering 126 flights per week. These are not spread evenly across the week. There are 26 flights on Mondays, 25 on Wednesdays, 24 on Sundays, 23 on Fridays, 17 on Thursdays, 11 on Tuesdays and none on Saturdays. The network includes new routes from Edmonton to Fort St. John and Grand Prairie, which both launched on 28 June.