New Route of the Day – Americas (14 June 2023): Qantas between Auckland and New York JFK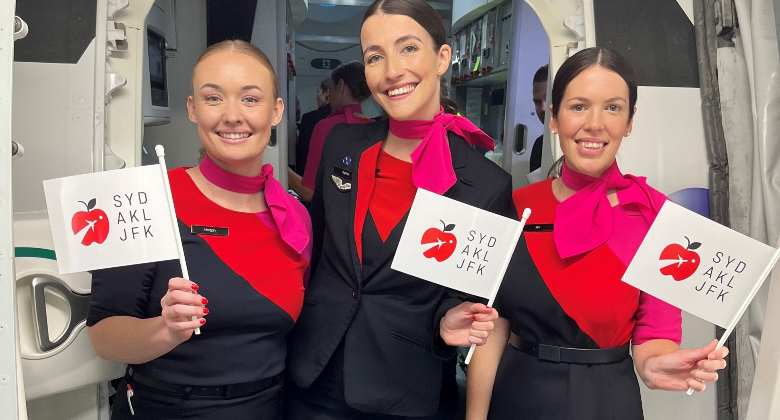 Qantas introduced one of the longest commercial flights in the world on Wednesday 14 June by inaugurating services between Auckland and New York JFK. The 14,185-kilometre route will be maintained 3-weekly on Wednesdays, Fridays and Saturdays, increasing to 4-weekly from October, using the 236-seat 787-8 aircraft. Qantas will compete directly against Air New Zealand's 3-weekly service on the same route, which it launched just last September.
The New York JFK service originates in Sydney. It marks Qantas' return to the Big Apple after three years. The route was previously served from Sydney via Los Angeles.
Flight QF3 departs Auckland at 16:15 local time, arriving at New York JFK at 16:30 local time. The inbound service, operating as flight QF4, takes off from New York at 19:30 local time, arriving in New Zealand's largest city at 05:00 local time two days later.
What they said
Alan Joyce, CEO at Qantas, said, "While the world has changed dramatically since the start of Covid, one thing that hasn't changed is the lure of New York City. Since international borders re-opened, New York has been one of the most popular destinations for our customers who have been connecting on our partners from Qantas flights arriving into Los Angeles and Dallas, so it's not surprising that we've seen very strong demand since our New York flights went on sale. The launch of the route has been made possible by the delivery of new 787 aircraft in recent weeks and brings us closer to returning our international capacity to what it was before Covid. LA had a lot of issues with connectivity. You had to pick up your bag, go through customs and immigration and then check in again for the Qantas flight that went to New York. And we never had the aircraft, until the 787s were available, to be able to do Auckland to New York."
Qantas to recover international network by 2024
The Qantas Group is expected to return to around 100% of its international network pre-Covid capacity by March 2024, up from around 85% of pre-Covid levels today. This is a significant increase from just 45% 12 months ago.
Qantas now operates three of the top five longest flights in the world, including Perth-London and Dallas-Melbourne, as it increases its focus on nonstop routes that are also among its most popular. Qantas has been preparing for the launch of New York with an advanced cloud-based flight planning system that models flights paths, measuring flights times and winds, to determine the optimal route.
Overall, Qantas will offer just over 1,800 weekly seats on the New York route each week. The Big Apple becomes the Australian flag carrier's fifth destination in the United States, joining Dallas, Honolulu, Los Angeles and San Francisco.