New Route of the Day – Americas (15 July 2021): Avianca between Orlando and Cali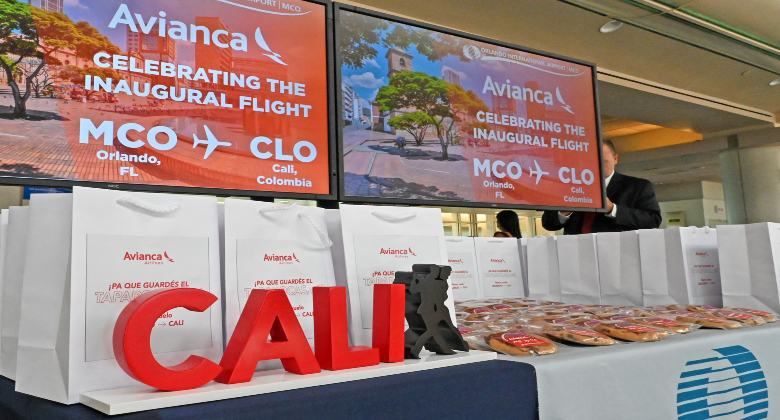 Avianca has expanded its US network with the launch on Thursday 15 July of 3-weekly service between Cali in Colombia and Orlando in Florida. The 2,800-kilometre route will be served by the airline's A320-series aircraft. The inaugural service (flight number AV 216, operated by an Airbus A319 registration N726AV) departed the Colombian airport at 09:10 local time and arrived in Florida three hours and 45 minutes later at 13:55 local time. No other carrier currently connects these two airports. The first departure from Orlando was at 16:13 local time, landing in Cali at 19:01 local time.
Avianca's second route to Orlando
Avianca currently operates 12 routes between Colombia and the US, seven from Bogota, two each from Medellin and Cali, and one from Barranquilla. Orlando is already served by Avianca from Bogota. The highest frequency route is between Bogota and Miami (served 24-weekly). Compared with two summers ago, frequencies between the two countries are down 42%, but only one route has been suspended, that between Cartagena and Miami. Apart from Orlando and Miami, Avianca also serves Fort Lauderdale in Florida, as well as Los Angeles, New York JFK and Washington IAD.
Cali's airport, known locally as Alfonso Bonilla Aragon International Airport, is Colombia's fourth busiest and handled around 5.7 million passengers in 2019, of which 1.2 million were on international flights. Avianca is not the only carrier to operate non-stop flights to the US from the airport. American currently connects Cali with Miami (2-daily) and New York JFK (daily), while Spirit offers a daily service from Cali to Fort Lauderdale.