New Route of the Day – Americas (15 June 2022): Delta between New York JFK and Milwaukee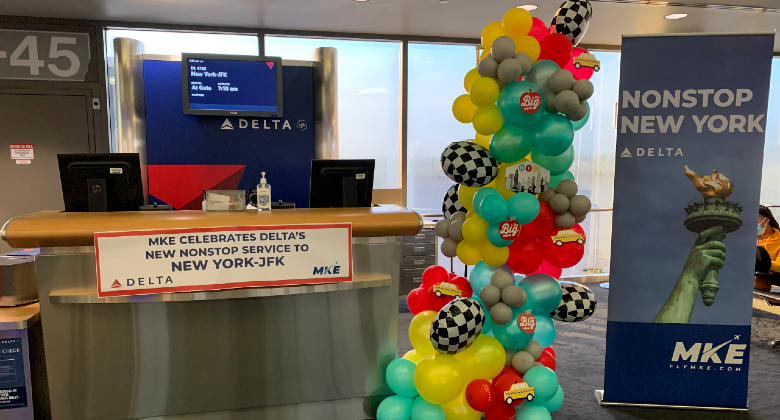 Delta has begun daily service on the 1,200-kilometre route between New York JFK and Milwaukee. The inaugural flight from New York was on the evening of Wednesday 15 June, while the first flight from Milwaukee was early the following morning on Thursday 16 June. The service is flown using CRJ700s operated on Delta's behalf by Endeavor Air. These feature nine seats in First Class, 16 in Delta Comfort and 44 in Main Cabin. According to Cirium schedule data, larger CRJ900s will be used on the route from 6 September. Competition on the route comes from JetBlue, who also offer a daily service using their 140-seat A220-300s.
Complements existing LaGuardia service
Delta already serves the New York region from Milwaukee through its 4-daily service to/from New York LGA. In addition, Delta also offers non-stop flights from Milwaukee to Atlanta (5-daily), Boston (up to 3-daily), Detroit (4-daily) and Minneapolis/St. Paul (up to 6-daily). From JFK, Delta offers at least daily, non-stop service to 20 destinations in Europe this summer, as well as three destinations in Africa (Accra in Ghana, Dakar in Senegal and Lagos in Nigeria) and one in the Middle East (Tel Aviv).
What they said
Brian Dranzik, Airport Director, Milwaukee Mitchell International Airport, said: "We're delighted to welcome additional service to New York, and we commend Delta for offering more ways to get travelers to the Big Apple this summer and beyond. There's been an increased demand for travel to this exciting city, and we're glad that Delta is responding by giving travelers more versatility and options by offering service to both JFK and LaGuardia."