New Route of the Day – Americas (15 May 2023): Delta between Detroit and Reykjavik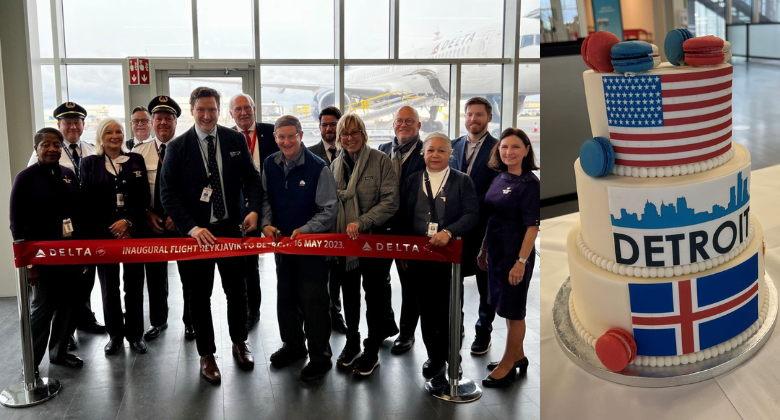 Delta introduced a new seasonal service between Detroit and Reykjavik on Monday 15 May, becoming its third route between the US and Iceland's capital after New York JFK and Minneapolis/St. Paul. The 4,495-kilometre service will be maintained 4-weekly on Mondays, Wednesdays, Thursdays and Sundays, with the 193-seat 757 aircraft. It will compete directly against Icelandair, which launches 4-weekly flights between the two cities with its 737 MAX on 18 May.
Flight DL236 departs Detroit at 20:10 local time, arriving at Reykjavik's Keflavik Airport at 06:20 local time the following morning. The return service, operating as DL237, takes off from Iceland at 08.50 local time on Mondays, Tuesdays, Thursdays and Fridays, arriving back in Detroit at 11:14 local time.
What they said
Anthony Black, General Manager for Corporate Communications at Delta, said: "Delta is excited to further connect the US and Iceland with new service to our hub in Detroit. This route will bring the total number of flights between the countries to 36-weekly."
Delta to hold 55% of capacity on new Reykjavik route
Delta is fiercely competitive and unveiled plans for its new route between Detroit and Reykjavik following Icelandair's announcement it would introduce services to the US city. Flights between the two were last operated in 2019 by the now-defunct Icelandic LCC WOW Air.
Delta is deploying more capacity between the two cities and will hold a 55% share of all seats during S23. In total, it will have 1,544 two-way seats on the route compared to Icelandair's 1,280. The SkyTeam member is hoping to outperform its Icelandic rival by offering significant transfer options through its Detroit hub. Delta launched operations to Reykjavik back in 2011 by introducing flights from New York JFK.