New Route of the Day – Americas (16 September 2021): Avelo between Santa Rosa and Las Vegas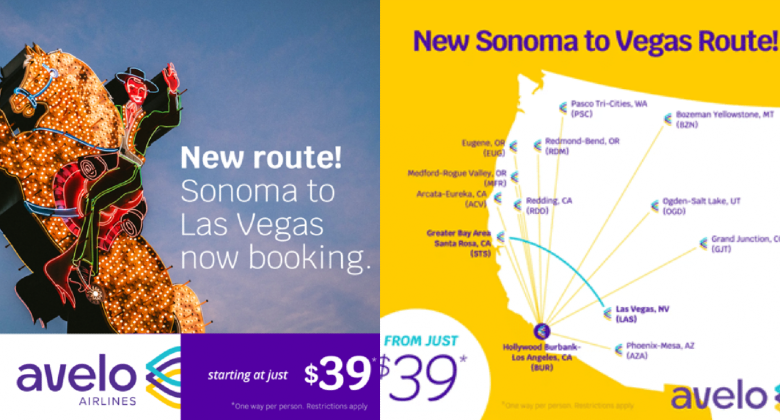 On Thursday 16 September Avelo launched its first West Coast route that does not involve its base at Hollywood Burbank Airport when it began 4-weekly service (Mondays, Thursdays, Fridays and Sundays) between Charles M. Schulz Sonoma County Airport near Santa Rosa in California and Las Vegas in Nevada. The inaugural service on the 730-kilometre route (flight number XP 127 operated by a Boeing 737-800 registration N801XT) departed Santa Rosa at 10:10 and touched down in Las Vegas one hour and 12 minutes later at 11:22 according to flightradar24.com. The return flight (XP 128) departed the Nevada airport at 12:49 and arrived back in California one hour and 23 minutes later at 14:12 local time. No other carrier currently connects these two airports.
New terminal being built to cope with growth
Charles M. Schulz Sonoma County Airport is located around 100 kilometres north of both San Francisco and Oakland airports and 100 kilometres west of Sacramento. In 2019 the airport handled 448,179 passengers, an increase of 10.8% on the previous year. A decade earlier it was welcoming just 186,000 passengers. As a result of this growth, the airport recently started building a new terminal to cope with expected future growth. It is set to open towards the end of 2022.
Alaska Airlines is leading carrier
Avelo already serves Sonoma from Hollywood Burbank and is the fourth carrier to serve the airport. American offers daily flights to its Dallas/Fort Worth hub and 2-daily flights to Phoenix PHX. United has daily service to San Francisco. However, the leading airline at the airport is Alaska Airlines, which in October will be offering daily service to Burbank, Los Angeles, Orange County (Santa Ana), Portland, San Diego and Seattle-Tacoma.