New Route of the Day – Americas (16 September 2023): JetBlue between New York JFK and Washington DCA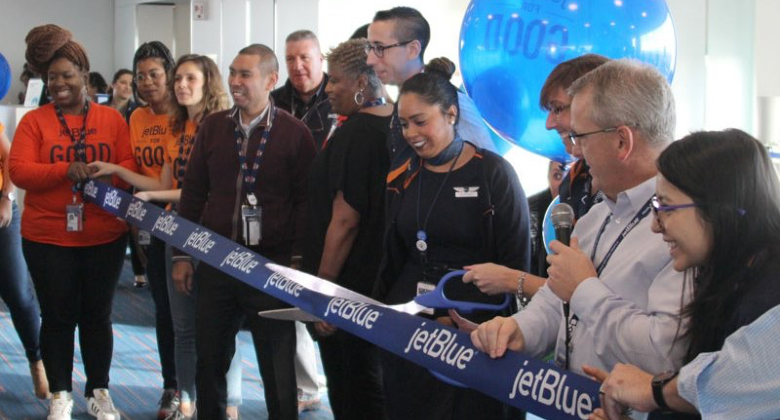 JetBlue introduced a new domestic service between its New York JFK hub and Washington DCA on Saturday 16 September. The 343-kilometre route will be maintained 3-daily with the 100-seat E190 aircraft. The airline enters a competitive field with American also operating 3-daily flights on the route, while Delta maintains 4-daily rotations.
What they said
Sebastian White, Director for Corporate Communications at JetBlue, said: "These flights have been highly requested. The new service has an added benefit of introducing connecting options at JFK between Washington DCA and many more destinations, including Amsterdam and Paris as part of JetBlue's, growing transatlantic service, and flights by dozens of JetBlue's global airline partners."
JetBlue now serves nine  routes from US capital
JetBlue is Washington DCA's fourth largest airline by available seat capacity, behind American, Southwest and Delta. In addition to the newly added New York JFK service, the carrier's Washington DCA network includes a further nine routes. They are Boston, Fort Lauderdale, Fort Myers, Martha's Vineyard, Nantucket, Nassau, Orlando MCO, West Palm Beach and San Juan in Puerto Rico. Of those, it operates the most weekly flights to Boston with 65-weekly departures, followed by Fort Lauderdale with 32-weekly rotations and Orlando MCO with 25-weekly flights. Overall, JetBlue has almost 175,000 seats on sale on its Washington DCA operations this September.
Long-distance flights blocked from Washington DCA
The United States House of Representatives recently upheld a decades-old rule that limits the number of flights at Washington DCA and the distance they can travel. The latest attempt to upend the rule was made over the summer. A bill was introduced arguing in favour of adding seven long-distance routes, a move some local officials claimed would compromise safety. The motion was ultimately defeated. Proponents of the plan to add more routes have vowed to continue the fight, which now moves to the Senate. Washington DCA and Washington IAD are the only two US airports owned by the federal government, allowing Congress to make decisions about how they operate.