New Route of the Day – Americas (17 February 2022): Breeze between Norfolk and Islip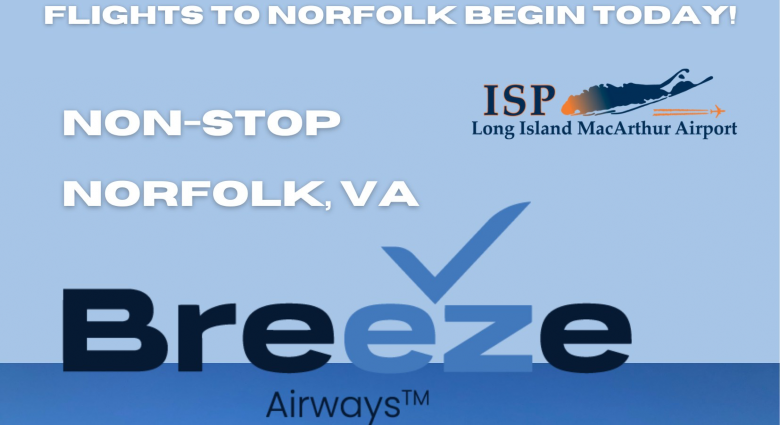 Breeze launched its first ever flights to Long Island MacArthur Airport, also known as Islip (ISP) on Thursday 17 February. The 4-weekly service from Norfolk (ORF) in Virginia will operate on Tuesdays, Thursdays, Fridays and Sundays using the airline's 108-seat E190s. The 510-kilometre route faces no direct competition. However, from Norfolk, American serves New York JFK 21-weekly and LaGuardia 26-weekly, Delta also serves JFK 21-weekly, while United connects to Newark 25-weekly.
The following day, Breeze launched a second route to Islip, this time from Charleston in South Carolina. This 1,070-kilometre route will be flown 3-weekly (Mondays, Wednesdays and Fridays) and faces no competition.
Breeze becomes fourth carrier at Islip
Located some 60 kilometres east of New York JFK, Long Island MacArthur Airport is the main airport serving Long Island. Pre-pandemic, the airport handled between 1.5 and 1.6 million passengers, with Frontier and Southwest the two main carriers. According to US BTS data, Southwest accounted for 52% of passengers in the 12 months to November 2021 and currently operates non-stop service to six airports; Baltimore/Washington, Fort Lauderdale, Nashville (launched in June 2021), Orlando MCO, Tampa and West Palm Beach. Frontier, with 43% of passengers, operates non-stop to five destinations in Florida (Fort Lauderdale, Fort Myers, Orlando MCO, Tampa and West Palm Beach) as well as Atlanta.
In addition, American operates 2-daily service to its hub at Philadelphia, a sector length of just 210 kilometres. With the arrival of Breeze, Islip is now home to four carriers. According to Cirium data, with the addition of these new Breeze services, scheduled weekly seat capacity at the airport is now 10% higher than it was in February 2019, while the number of weekly departures is up 13% from 119 to 135.