New Route of the Day – Americas (17 May 2023): Air Serbia between Belgrade and Chicago ORD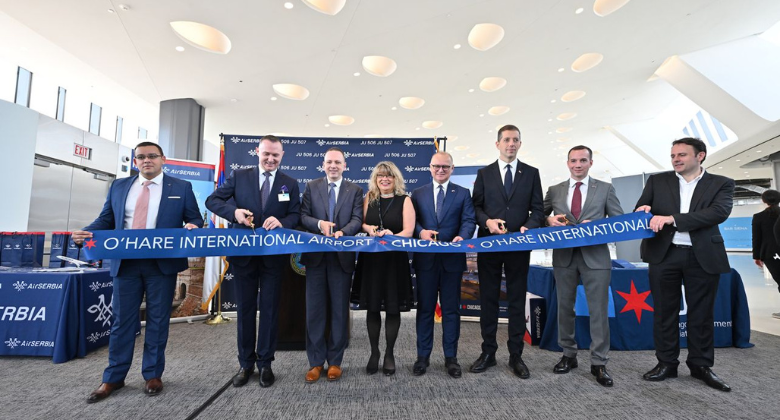 Air Serbia launched its third long-haul service on Wednesday 17 May with the introduction of flights between Belgrade and Chicago ORD. The 8,045-kilometre route will be initially maintained 2-weekly on Wednesdays and Saturdays, increasing to 3-weekly from 12 June. It marks the resumption of flights between the two cities after exactly 31 years. The airline will deploy its 257-seat A330-200 on the route and faces no competition.
What they say
Jiri Marek, CEO at Air Serbia, said: "This day is of especial importance for our company, Serbia, Belgrade, and the entire Western Balkan region, as well as the large number of our compatriots who live and work in North America. We are pleased that we responded to passenger needs, and for enabling them to easily fly over 8,000 kilometres, on Air Serbia's comfortable wide-body aircraft. We believe that the flights between Belgrade and Chicago will be useful for all passengers, regardless of the reason for travel, and that it will help improve business, tourism, and all other links between Serbia and the US."
George Petkovic, Vice President for Americas at Air Serbia, noted: "In addition to New York, which Air Serbia has been flying to for nearly seven years, our passengers will now be able to travel on another direct schedule service of our airline, between Serbia's capital and Chicago. The importance of that service, among other things, is evidenced by the fact that a large number of flights in the coming weeks and months have already been well-booked."
Jamie L. Rhee, Commissioner at the Chicago Department of Aviation, added: "On behalf of Mayor Brandon Johnson, I welcome Air Serbia to Chicago, and we look forward to a long and continued partnership connecting Chicago residents to this new destination in one of Europe's great cities. More than 350,000 Chicagoland residents are of Serbian origin, and we're thrilled to be able to offer them a fast and easy connection to their roots in the Balkans."
Air Serbia grows long-haul network
Air Serbia is expanding its long-haul network this summer. In addition to the new Chicago ORD flights, which were last operated on 17 May, 1992, the airline is also growing its service to New York JFK, which is its only other destination in North America, with the addition of a seventh weekly flight on 18 June.
Besides its network to the United States, Air Serbia also maintains a weekly flight between Belgrade and Tianjin in China, with the carrier recently noting that future expansion to the country is its number one priority in terms of its route development plans.
Air Serbia maintains its long-haul flights with two A330-200s, with plans to take a delivery of third later this year.