New Route of the Day – Americas (18 August 2021): Alaska Airlines between Boise and Pullman-Moscow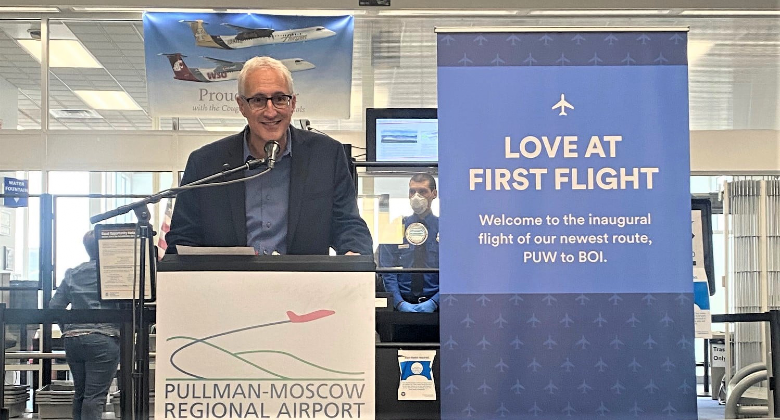 Alaska Airlines has expanded its offering from Pullman-Moscow Regional Airport (IATA code PUW) in the state of Washington by adding 5-weekly service to Boise in Idaho on Wednesday 18 August. The inaugural service on the 360-kilometre route (flight number AS 2492 operated by a Q400, registration N400QX in Idaho Vandals livery operated on behalf of Alaska Airlines by its subsidiary Horizon Air) departed Boise at 11:09 and touched down at Pullman-Moscow 50 minutes later at 10:59 local time. The return flight (AS 2496) departed Pullman-Moscow at 11:55 and arrived back in Boise at 13:47. Although Pullman-Moscow serves both Pullman (in Washington) and Moscow (in Idaho) the airport lies in Washington state. As a result the route traverses a time zone.
Runway realignment completed in 2019
Pullman-Moscow's only other scheduled service at present is the 400-kilometre connection to Seattle-Tacoma. This route operates 3-daily and is also flown by Horizon Air's Q400s on behalf of Alaska Airlines. In late 2019, the airport opened its new realigned and lengthened runway (from 6,700 feet to 7,100 feet) which enables it to handle larger aircraft and improves operational safety.
Alaska Airlines leading airline at Boise
Alaska Airlines will be offering non-stop service from Boise to 12 destinations this September. The busiest routes are to Seattle-Tacoma (74-weekly) and Los Angeles (28-weekly), while the longest sectors are to Austin in Texas (2,310 kilometres, served daily) and Chicago ORD in Illinois (2,210 kilometres, also served daily). Alaska Airlines is the leading airline at Boise by both flights (191 weekly departures) and seats (16,200 departing seats per week) in September. Boise is Alaska Airlines's eighth busiest airport for flights at present, beaten only by Seattle-Tacoma, Portland PDX, Los Angeles, San Francisco, San Diego, Anchorage and San Jose SJC.