New Route of the Day – Americas (18 October 2022): Spirit between Orlando MCO and Rochester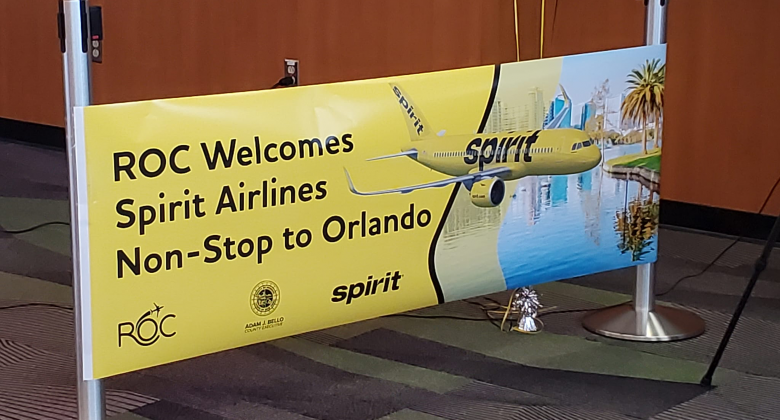 Spirit Airlines (IATA code NK) has added Rochester in the state of New York to its network with the introduction of a daily service to Orlando MCO in Florida. The first flight from Orlando to Rochester was on Tuesday 18 October, while the initial service from Rochester to Orlando was on Wednesday 19 October. The 1,660-kilometre route is already served by Frontier (3-weekly) and Southwest (weekly).
While this is Spirit's first route from Rochester, it will be operating flights to Orlando in November from 50 airports, according to the latest Cirium data. The ULCC will be offering around 600 weekly departing flights from the Florida airport. Only Southwest with 685 weekly flights offers more. However, based on seat capacity, Spirit appears to be marginally bigger than Southwest.
Spirit had announced back in February that this new Rochester service would begin on 24 June. However, the launch was pushed back by almost four months. It was originally announced that a second route from Rochester, a 4-weekly service to Myrtle Beach in South Carolina, would also begin on 24 June. Analysis of Cirium data and the airline's on-line booking tool suggests the route has been postponed, at least for now.
Capacity up 10% in Rochester versus 2019
According to US BTS statistics, Rochester welcomed just over 2.5 million passengers in 2019. Cirium data reveals that in November 2022, seat capacity at Rochester is 11% higher than in November 2019. Eight airlines serve the airport with Delta offering the most seat capacity (around 30% of the total) followed by American, Southwest, United, JetBlue, Frontier, Spirit and Allegiant. Frontier and Spirit are both new since November 2019. The following routes have been launched at the airport since the beginning of 2021:
20 May 2021: Frontier to Orlando (3-weekly)
4 November 2021: Frontier to Miami (2-weekly)
30 November 2021: Frontier to Tampa (4-weekly)
18 February 2022: Frontier to Fort Lauderdale (2-weekly)
27 May 2022: Frontier to Denver (3-weekly)
5 June 2022: Southwest to Chicago MDW (12-weekly)
Coming soon on 9 November 2022: Delta to Boston (daily)
Of the five routes Frontier launched between May 2021 and May 2022 only two appear to have survived, with Orlando and Tampa both operating this winter and next summer according to Cirium data. The Denver, Fort Lauderdale and Miami services appear to have been terminated. The last Denver flight is in early November, the Fort Lauderdale service lasted less than three months and the Miami service only operated 18 times.