New Route of the Day – Americas (19 May 2023): Aer Lingus between Dublin and Cleveland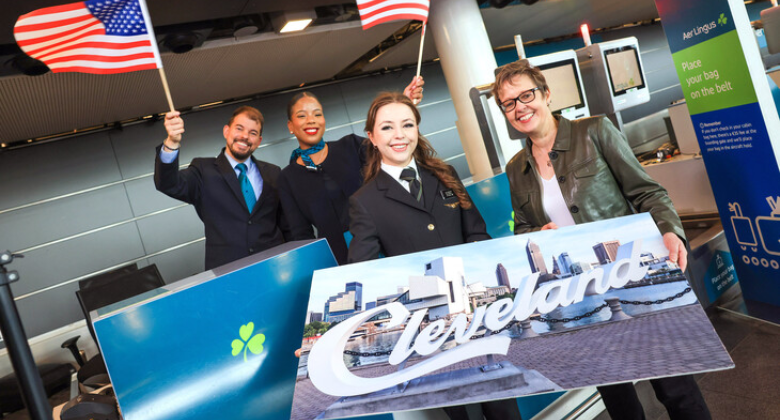 Aer Lingus added a 4-weekly service between Dublin and Cleveland on Friday 19 May, marking the first new transatlantic addition to its network in almost five years. The 5,580-kilometre route will be maintained on Mondays, Wednesdays, Fridays and Sundays with the A321neoLR aircraft. It faces no competition between the two cities.
Flight EI87 departs Dublin at 15:30 local time, arriving in Cleveland at 18:50 local time. The return service, operating as EI86, takes off from Ohio's second largest city at 20:20 local time, touching down back in Ireland's capital at 08:50 local time the following morning.
What they said
Lynne Embleton, CEO at Aer Lingus, said: "The addition of the new Cleveland route is a further demonstration of Aer Lingus' commitment to develop Dublin as a hub, a key part of the airline's growth strategy. At Aer Lingus we are seeing a 20% increase in transatlantic bookings, a strong indicator of the demand amongst US passengers for travel to Ireland and Europe. which is being met by our largest ever transatlantic schedule, delivering over 2.25 million seats this summer. Not only do we serve the very popular destinations such as New York, Boston, Chicago and Los Angeles, our A321neoLR aircraft allow us to provide connections to secondary cities such as Cleveland."
Vincent Harrison, Managing Director of Dublin Airport, added: "US destinations hold a special place in the hearts of Irish travellers. The connection between the United States and Ireland is not just about travel - it is about fostering relationships, creating memories, and embracing the wonderful experiences that await us across the Atlantic".
Aer Lingus' decade of transatlantic growth
Since 2013, Aer Lingus has grown the number of transatlantic routes it serves from six to 19 in 2023 and the number of transatlantic passengers will have almost tripled in the same timeframe, from 1.1 million in 2013 to an estimated three million this year.
The airline's long-haul strategy is also focused on connecting Europe to North America and vice versa. Over the past decade, the total number of Aer Lingus transatlantic passengers connecting between Europe and North America, through its hubs, has increased almost threefold, from 300,000 to 800,000, and in 2022 more than half were travelling from North America. Today, close to 40% of transatlantic passengers connect via Dublin onwards. In 2022, the main connecting European markets were Manchester, London, Paris, Edinburgh and Amsterdam.
Dublin is Cleveland's only European destination
Aer Lingus' new route between Dublin and Cleveland becomes the US city's sole service to Europe. Cleveland was last served by a European carrier in 2018, when the now-defunct Icelandic LCC WOW Air and Icelandair operated flights from Reykjavik. As a result, Aer Lingus hopes the new route will serve as a getaway for travellers from the area to Europe.
Cleveland Airport handled almost 8.7 million passengers in 2022, down from over 10 million during the pre-pandemic 2019. In addition to Aer Lingus, the only other non-US carrier serving the airport is Air Canada with its Toronto YYZ flights, with the rest being local airlines serving domestic destinations. United is Cleveland's biggest airline with a passenger share of over 23% in 2022.