New Route of the Day – Americas 2 (1 March 2022): Contour between Charlotte and Muscle Shoals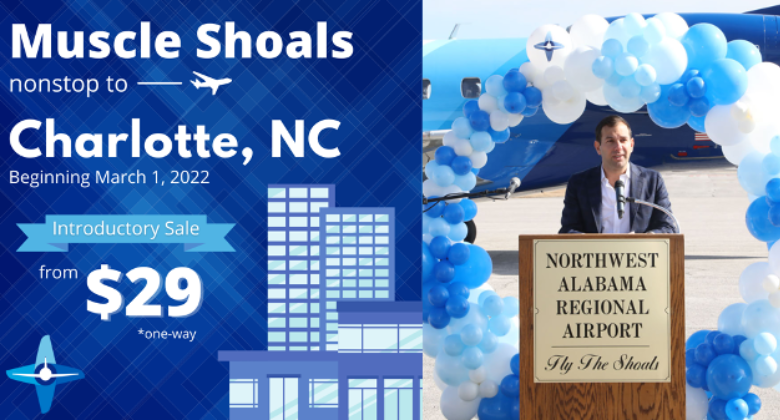 Contour Airlines (IATA code LF) has started non-stop service between Charlotte in North Carolina and Muscle Shoals (IATA code MSL) in Alabama. The 610-kilometre route will be served 2-daily on weekdays and daily on the weekend using the airline's ERJ-135s. No other airline connects these two airports. This service has been made possible by the US DOT's Essential Air Service (EAS) programme. Under the 31-month contract with Contour Airlines the airport will receive funds directly from the government and the airport will pay the airline through a program known as Alternate EAS. From Charlotte passengers can access over 150 destinations with a non-stop service.
Known locally as Northwest Alabama Regional Airport, this new service has become the airport's only scheduled route after Boutique Air's services to Atlanta and Pensacola came to an end on the last day of February. Both of these routes had been operated using Pilatus PC-12s. Boutique Air had also served Nashville until last July.
Contour now operates 11 routes
According to Cirium data, Contour Airlines, founded in 2016, currently operates scheduled service on 11 US domestic routes with weekly frequencies ranging between four and 14. It already operates service from Charlotte to Beckley in West Virginia. Nashville with four routes (to Greenville in Mississippi, Greenville/Spartanburg in South Carolina, Indianapolis and Tupelo) and 28 weekly departures is the airline's busiest airport. Its fleet comprises 10 30-seat ERJ-135s.
Muscle Shoals is known for its music
With a population of fewer than 20,000 people, Muscle Shoals is best known as the home of two famous music recording studios, FAME Studios and Muscle Shoals Sound Studio. A documentary film about the two studios, entitled Muscle Shoals was released in 2013, which included interviews with many of the singers and musicians who recorded there, including Aretha Franklin and members of The Rolling Stones.