New Route of the Day – Americas (2 June 2022): United between Newark and Palma de Mallorca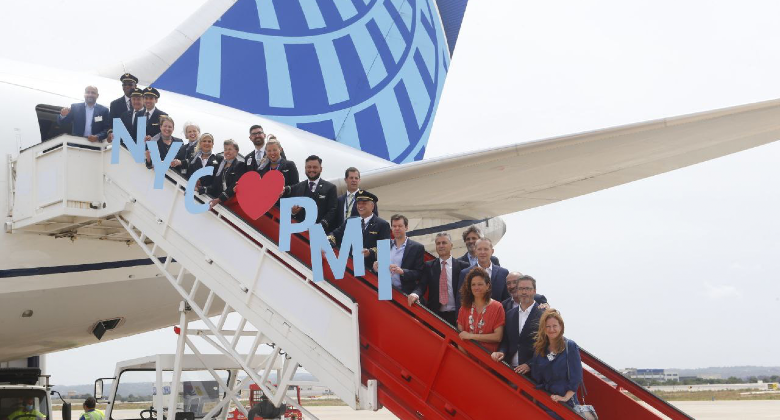 United launched yet another new transatlantic route from New York EWR on 2 June. This time the Star Alliance carrier is linking its Newark base with Palma de Mallorca. The first return flight from the Balearic Island to New York was on 3 June. The 6,330-kilometre route will be flown 3-weekly using the airline's classic two-class, 214-seat 767-300ERs until 22 September, with the last return flight being on 23 September.
Flight UA236 departs Newark at 21:05 local time on Tuesdays, Thursdays and Sundays, arriving in Mallorca at 11:10 local time the following morning. Flight UA237 departs the Spanish airport at 12:55 on Mondays, Wednesdays and Fridays, arriving back in Newark at 16:10 local time the same day after a scheduled flight time of nine hours and 15 minutes.
No carrier has offered non-stop service between the US and Palma de Mallorca for at least 20 years, according to analysis of Cirium schedule data.
Six non-stop routes to Spain this summer with United
A week after launching flights to Palma de Mallorca, United also began 3-weekly service from Newark to Tenerife TFS in the Spanish Canary Islands. This route will be flown using the slightly smaller, single-aisle 757-200s. These routes complement United's existing non-stop routes to Spain, daily flights from both Newark and Washington IAD to Barcelona and Madrid.
What they said
Catalina Cladera, President of the Consell de Mallorca, said: "The new United Airlines route opens a window to Mallorca from New York, a direct view through which we want to showcase the unique elements that the island has to offer. Our island is a first-class tourist destination that has adapted to the demands and trends over the years. The public and private sectors work closely together to continue to be leaders in quality, safety and sustainability."