New Route of the Day – Americas (2 June 2023): ZIPAIR between Tokyo NRT and San Francisco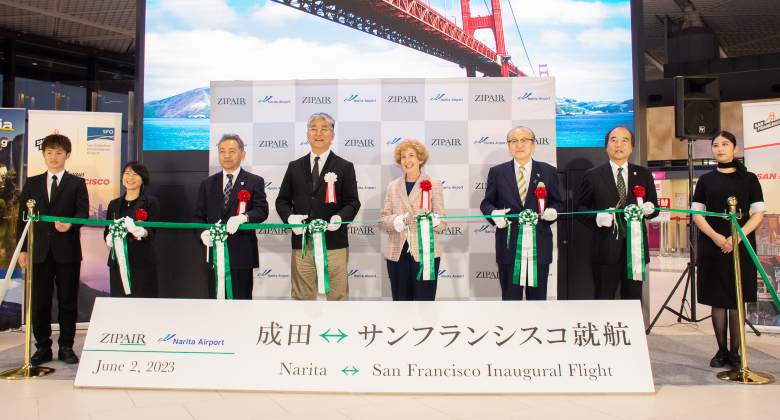 ZIPAIR (IATA code ZG), a wholly owned subsidiary of Japan Airlines, has added a fourth US destination from its home base at Tokyo NRT. On Friday 2 June the carrier began 5-weekly operations on the 8,245-kilometre service to San Francisco. It will operate the 290-seat 787-8s on the route on Mondays, Tuesdays, Wednesdays, Fridays and Sundays. ZIPAIR will complement its parent company's daily service between the two airports. However, it will have to compete against Star Alliance members ANA and United, which both maintain daily flights on the route.
Flight ZG26 departs Tokyo NRT at 21:35 local time, arriving in San Francisco at 15:00 local time. The inbound service, operating as ZG27, takes off from the California airport at 17:00 local time, touching back down in the Japanese capital at 20:05 local time the following day.
What they said
Shingo Nishida, President of ZIPAIR, said: "We are pleased to introduce the San Francisco - Tokyo Narita route, which becomes our fourth gateway in the United States. Through our relationship with SFO, we are confident this service will provide a valuable link for commercial and cultural exchange for our mutual customers."
Ivar C. Satero, Director of San Francisco Airport, added: "We are truly excited to welcome ZIPAIR service between SFO and Tokyo. With this move, travellers can enjoy ZIPAIR's fantastic value together with SFO's award-winning, world-class airport experience. We thank ZIPAIR for choosing SFO and are committed to making this new service a success."
Serving three airports in California
Having initially operated cargo only flights due to the pandemic, ZIPAIR launched passenger operations in October 2020 to Seoul ICN in South Korea. The airline's first US service, to Honolulu, began in late December 2020, but only operated initially until the end of January 2021. Flights to Hawaii then resumed in July 2021 and since then it has introduced a further three destinations in the States, all of which are in California. In addition to San Francisco, they include Los Angeles and San Jose.
ZIPAIR's other routes include Bangkok and Singapore, with services to Manila in the Philippines to commence on 1 July. The carrier boasts a fleet of six 787-8s.