New Route of the Day – Americas (2 October 2023): Vivaaerobus between Merida and Puebla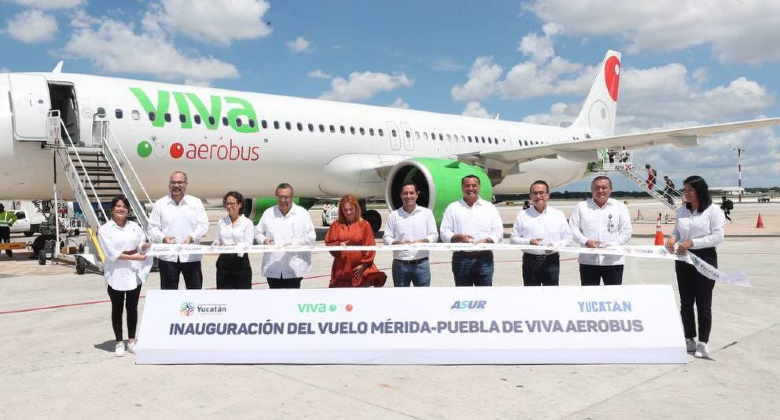 Mexico's Vivaaerobus launched a new domestic service between Merida and Puebla on Monday 2 October. The 930-kilometre route will be maintained 3-weekly, on Mondays, Wednesdays and Fridays, with the 240-seat A321 aircraft. The LCC faces no competition between the two cities.
What they said
Juan Carlos Zuazua, the CEO of Vivaaerobus, said: "We continue to improve the connectivity of Merida, completely convinced of the great tourism potential of Yucatan. On the one hand, we are the key that opens the doors of the White City to Mexico, and soon, for the first time, also to the United States. With Viva, Yucatecans can fly comfortably on new planes at low prices."
Mauricio Vila Dosal, the Governor of the state of Yucatan of which Merida is the capital, added: "We thank Vivaaerobus for the great trust it has shown in Yucatan, steadily strengthening our air connectivity.  This is key to making our state an even more competitive destination, attractive for tourism and new investments and, of course, generating greater economic benefits, well-being and development for the benefit of all Yucatecans.
Vivaaerobus to commence US flights from Merida
Vivaaerobus plans to further expand its operations out of Merida in the coming period. In addition to the new Puebla service, the LCC will launch another domestic route, to Mexico City NLU, on 16 December.
Starting S24, the Mexican carrier will inaugurate flights out of Merida to the US, with services to Orlando MCO Miami to launch on 1 July on 2 July respectively.
Vivaaerobus is Merida's largest carrier. In October alone it has 392 departing flights from the city, with 89,060 outbound seats. It holds a 46% capacity share out of the airport, with its closest competitor being Aeromexico with a 26% share of seats,
Vivaaerobus is Mexico's second-largest airline
Vivaaerobus will add an extra four million seats on the market during Q4 2023, when compared to the same period during the pre-pandemic 2019. The carrier is Mexico's second largest, behind only Volaris. During the fourth quarter it will boast 7.9 million seats on the market. In addition, it will position itself as North America's eleventh-largest airline.