New Route of the Day – Americas (20 May 2022): United between New York EWR and Bergen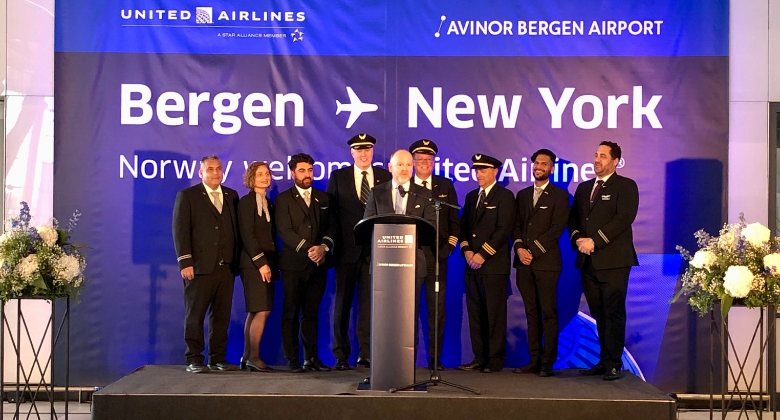 United continues to launch new transatlantic routes, with the latest being between New York EWR and Bergen, the Norwegian city which recently hosted Routes Europe. The first flight, UA 270, operated by a 757-200 (registration N19141), departed the US on Friday 20 May at 21:40 local time, arriving in Norway six hours and 42 minutes later at 10:22 on Saturday 21 May. The first return flight (UA 271) left Bergen at 12:02 local time on Sunday 22 May arriving back in Newark seven hours and 42 minutes later at 13:44 local time, according to flightradar24.com. The route will operate 3-weekly until the end of September, with flights from the US on Mondays, Wednesdays and Fridays, and departures from Norway on Tuesdays, Thursdays and Saturdays.
First US flights from Bergen since October 2018
In the last 20 years, Bergen's only scheduled non-stop services to the US were provided by Norwegian. Initially it offered (very) seasonal, weekly service between Bergen and New York JFK between May 2014 and August 2016 using its 787s. The following summer, in July 2017, it started offering 2-weekly service to both New York SWF and Providence in Rhode Island. The latter route only operated until October 2017, but the New York service continued 2-weekly through the winter until the end of October 2018.
SAS is leading carrier between Scandinavia and US
United has previously served Norway, but with flights to Oslo. Daily, year-round service between Newark and the Norwegian capital began on 5 March 2012 and continued until 6 September 2016. The airline's 757 fleet was also the aircraft of choice for the route back then. This new route to Bergen is United's only service to Scandinavia this summer. Fellow Star Alliance member SAS is offering non-stop flights this summer to six US destinations from Copenhagen (to Boston, Chicago, Los Angeles, New York EWR, San Francisco and Washington), one from Oslo (to Newark) and two from Stockholm ARN (to Chicago O'Hare and Newark). In addition, Delta connects JFK with Copenhagen and Stockholm, while Finnair is now offering non-stop service to Los Angeles and New York JFK from Stockholm.
Norse Atlantic Airways will soon be joining the market as it has announced plans to connect Oslo with Fort Lauderdale, Los Angeles, New York JFK and Orlando, with all four routes set to start between 14 June and 9 August.