New Route of the Day – Americas (20 September 2023): JetBlue between Boston and Amsterdam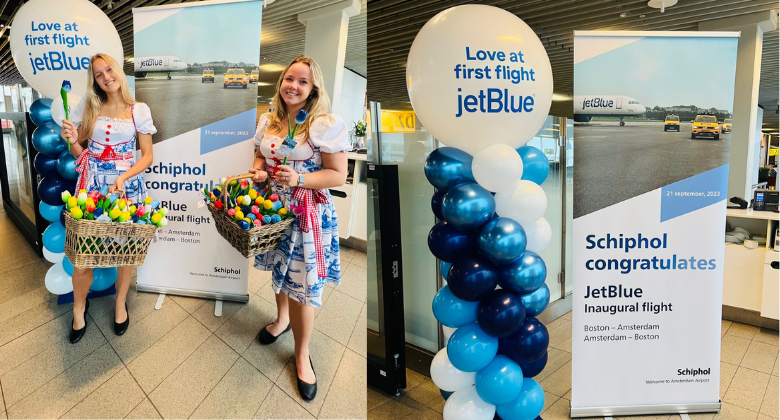 JetBlue added its latest transatlantic service on Wednesday 20 September by inaugurating flights between Boston and Amsterdam. The 5,565-kilometre route will be maintained daily with the 138-seat A321LR aircraft. The airline competes directly against Delta's 2-daily and KLM's daily flights between the two cities. The Boston to Amsterdam service is JetBlue's second route to the Dutch city, with the carrier launching operations from New York JFK on 24 August.
Flight B631 takes off from Boston at 21:56 local time, touching down in Amsterdam at 11:15 local time the following morning. The inbound service, operating as flight B632, takes off from Schiphol Airport at 11:35 local time, arriving back in the US at 13:47 local time.
What they said
Dave Clark, Head of Revenue and Planning at JetBlue, said: "Our recently launched Amsterdam service from New York has already been very successful and we are thrilled to expand our low fares and great service to Amsterdam to our Boston customers. Adding nonstop service to Amsterdam benefits business and leisure customers who have suffered from high fares by legacy carriers for decades and brings more options to our customers in our New England focus city."
JetBlue has seven transatlantic routes
JetBlue now boasts 56-weekly departing flights from the US to Europe with 8,036 seats available in each direction. Its Boston to Amsterdam service becomes the carrier's seventh transatlantic route.
New York JFK – London LGW (daily)
New York JFK – London LHR (two-daily)
New York JFK – Paris CDG (daily)
New York JFK – Amsterdam (daily)
Boston – London LGW (daily)
Boston – London LHR (daily)
JetBlue has indicated its eighth transatlantic service will be between Boston and Paris CDG, set to launch sometime in 2024.
Despite its growing long-haul operations out of Boston, the carrier will trim flights from the city to London LGW throughout September and most of October, as well as the majority of January 2024.