New Route of the Day – Americas (21 August 2023): Silver Airways between Fort Lauderdale and Gainesville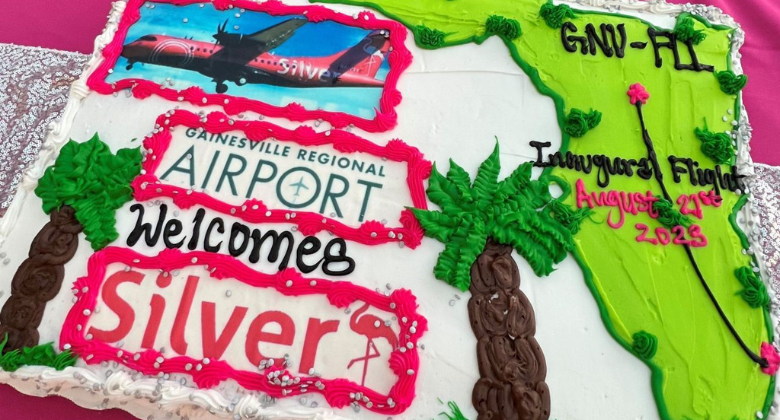 Silver Airways launched a new route within Florida on Monday 21 August between Fort Lauderdale and Gainesville. The 450-kilometre service will be maintained daily with the ATR72 turboprop aircraft. The airline faces no competition on the route.
Flight 3M140 departs Fort Lauderdale at 18:20, arriving in Gainesville at 19:50. The return service, operating as flight 3M141, takes off from Gainesville at 20:20, touching back down in Fort Lauderdale at 22:00.
What they said
Steve Rossum, CEO at Silver Airways, said: "We are excited to return to GNV airport and further expand our route network with nonstop service between Fort Lauderdale and Gainesville.  Home of the University of Florida Gators and Florida's largest and oldest university, Gainesville's academic and research community attracts visitors from all over the globe. A vibrant destination with endless offerings of nature activities and local attractions, we look forward to serving Gainesville residents and visitors and the surrounding Alachua County community."
Allan Penksa, CEO of Gainesville Regional Airport, added: "A low-cost nonstop route to and from FLL has long been requested by our University of Florida and business communities. We are delighted to announce this convenient route on Silver Airways is now available as one more Fly Easy option for our travellers."
Silver Airways with almost 300 weekly flights in August
Cirium schedules data indicates that Silver Airways has 268 weekly one-way flights in August. Some 186 are domestic, mainly within and to/from Florida. They also include services between the US territories of Puerto Rico and the US Virgin islands and within the US Virgin Islands, all of which are considered as domestic. Additionally, it has 82 weekly international flights, both from Florida and Puerto Rico. The regional carrier serves 31 airports in August.
Gainesville served by three airlines
Gainesville is the largest city in North Central Florida, with a population of 141,085. It is home to the University of Florida, the fourth-largest public university campus by enrolment in the US. Its airport served 535,694 passengers last year, almost eclipsing its 2019 pre-pandemic record which stood at 558,246.
Silver Airways becomes the third carrier to serve Gainesville. Others include American's regional subsidiary American Eagle, with flights to Charlotte, Dallas/Fort Worth and Miami, and Delta, with services to Atlanta. Overall, in September, Gainesville will have 615 departing flights offering 52,607 seats.